News
Royal Wharf Pier realises vision for sustainable travel
London's newest Thames pier was opened to the public this week and appropriately provided the location for Transport for London (TfL) to announce its new strategy aimed at expanding the river's pier network.
The new pier at Ballymore and Oxley's Royal Wharf is London's longest and the 23rd serviced by the Thames Clippers riverboat service. The cutting edge design with its grey painted steel structure and distinctive copper-coloured balustrading was created by architect Nex and has already been recognised in this year's New London Awards. The structure was built in Holland and transported some 300 miles by water to its final location, alongside the burgeoning community at Royal Wharf.
Local residents and visitors can now all enjoy the pier's promenade and glazed viewing platform, taking in the sights and sounds of the Thames. But above all, the pier makes a key contribution to sustainable travel in east London, bringing popular destinations within easy reach. Residents from Royal Wharf and the wider Newham community using Royal Wharf Pier will be able to travel via the Thames Clipper to Canary Wharf in just 23 minutes, while the Tower of London is 34 minutes away.
The new pier could be the shape of things to come. The new Passenger Pier Strategy sets out how TfL, the Port of London Authority, boat operators and other stakeholders plan to double the number of trips taken by river each year to 20 million by 2035, reducing car use and freeing up capacity on other public transport. Heidi Alexander, Deputy Mayor for Transport said of the launch of the strategy: "The Thames is one of London's major assets and our Pier Strategy will enable us to maximise its potential fully. By improving our piers and making them more accessible and appealing, we will encourage many more Londoners to travel by river – helping reduce car use, ease congestion and improve air quality."
"This isn't just a new build development for the people that live here, it brings a lot for the whole borough."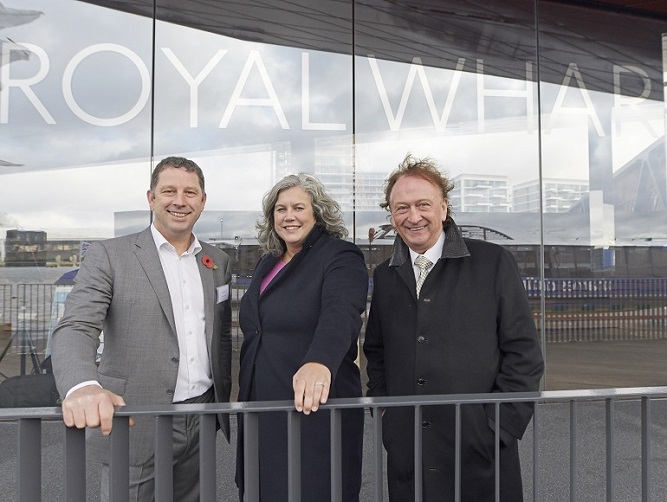 The strategy proposes that TfL and the Port of London Authority encourage the delivery of more privately funded, developer-led piers to help increase passenger potential. Robin Mortimer, Chief Executive of the Port of London Authority, said: "This new strategy is a key step in continuing safe and sustainable growth in passenger use of the River Thames – whether that's for Londoners, UK or overseas visitors – the river offers something for everyone. Investment in modern and attractive passenger piers is central to that future growth and great customer experience."
That could see more developers following the example being set at Royal Wharf, providing homes and sustainable travel in an integrated approach.
Sean Mulryan, Chairman & Group Chief Executive, Ballymore, said: "The new pier having launched for public service is an incredible achievement for all involved, and a great addition for Royal Wharf and Newham residents. We are delivering 3,385 new homes here in east London – which is in essence a new town, ultimately for 10,000 residents across 40 acres. This isn't just a new build development for the people that live here, it brings a lot for the whole borough. The vision for the neighbourhood is being realised here, with the Royal Wharf Community Dock now open too, plus an NHS health centre, new nursery and primary school all on the way."