News
A first look at Sea Gardens in Bray
- Ballymore has opened the doors to its newest development in Bray this week, welcoming customers to the development by appointment with agents Savills and Dillon Marshall.
- The new release includes two-, three-, and four-bedroom homes, with interior design features inspired by the local area
- When complete, the 40-acre site will comprise 1,200-homes, 9 acres of open space to include Central Park, Coastal Gardens, The Linear Park and a multi-use games area
- The vast neighbourhood straddles both Dun Laoghaire-Rathdown and Wicklow, with connectivity that will give residents the best of both urban and suburban living, with Dublin just 45 minutes away via the DART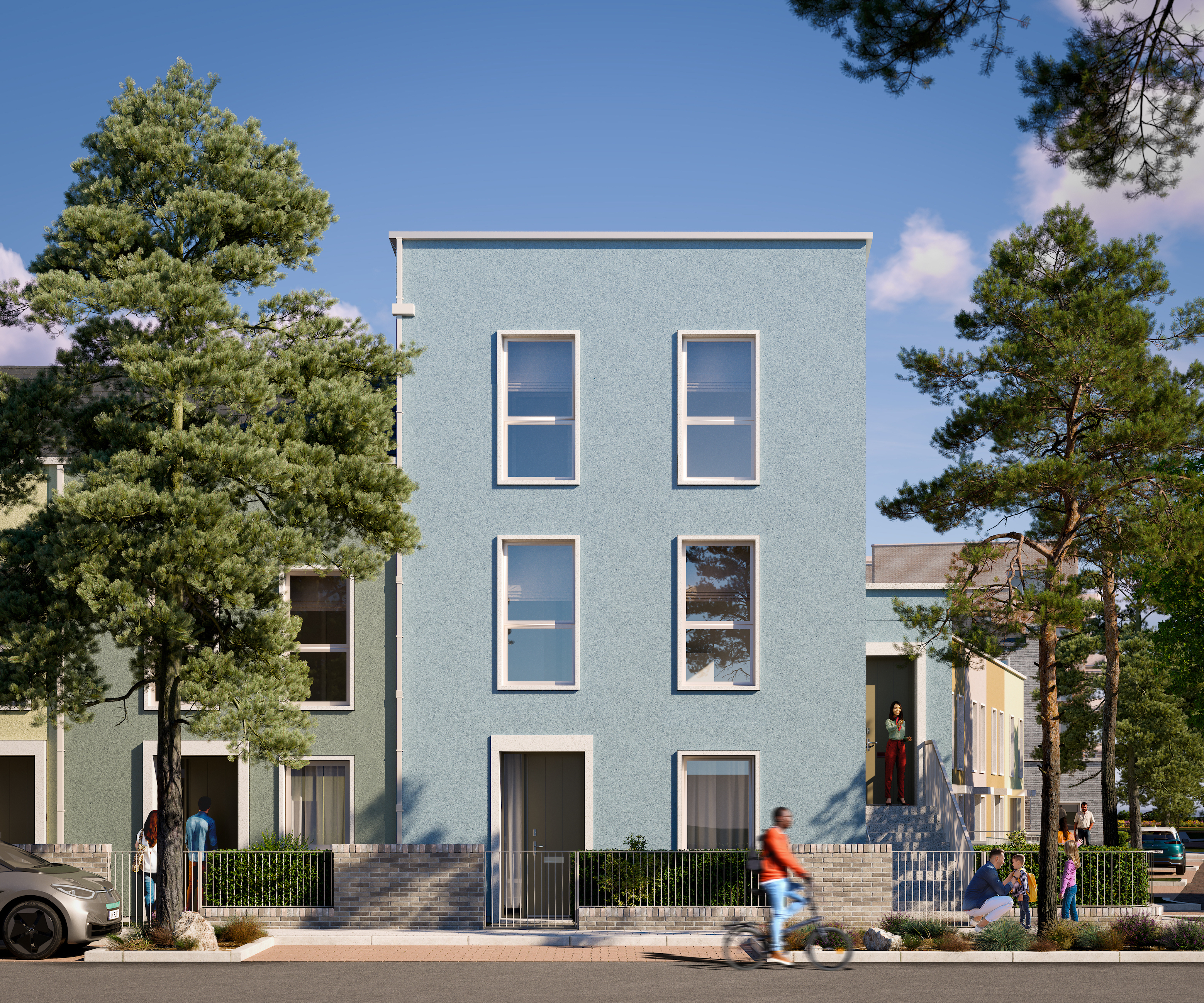 Customers hoping to secure a new home at Ballymore's Sea Gardens in Bray can make appointments to visit the first show homes this week, as a new range of properties are released for sale.
Located on the north bank of the Dargle River, close to Bray Harbour and the iconic Victorian promenade, Sea Gardens is an ode to Bray's historic charm whilst catering to the requirements of sustainable 21st-century living.
The new homes boast views of the Irish Sea in one direction and of the Wicklow Mountains in another. Among those being released this week are the three-bedroom homes; ideally suited for young families, they feature three well-appointed bedrooms, including an ensuite bathroom for the primary bedroom, as well as large kitchen and dinner areas alongside a separate living room.
Ballymore will also release a range of spacious four-bedroom properties offering accommodation over three storeys. All four bedrooms are doubles, with two ensuite bathrooms for the primary bedrooms, as well as a focus on kitchen-living spaces. The homes also feature a study – which can also be used as a playroom or home office – as well as a large utility room, ample storage, and a concealed pantry.
The final homes within this release include two-bedroom apartments, each of which feature a primary bedroom ensuite, ample storage space, with some featuring a home office, as well as a collection of duplex homes, ranging two-bedroom, ground-floor apartments, and three-bedroom duplexes on the first and second floors.
A common theme across all of the homes is their sustainability credentials, with the promise of A-rated homes under the Home Performance Index by the Irish Green Building Council emphasizing Ballymore's commitment to energy efficiency and sustainable living. The homes also each boast lots of space, with up to 2.7-metre ceiling heights, and great attention to detail – with kitchen colours and tiling that denote the different property types; from the pink hued kitchens of the two-bedroom homes, to the teals and blues that come in the three- and four-bedroom properties respectively, each colour is a nod to the local colour palate.
Externally, the properties are well-thought out, with the houses and ground-floor duplexes featuring private gardens, while the exteriors adopt a series of pastel render, resulting in contrasting streetscapes. Residents will also benefit from bike storage, car parking and EV charging facilities. Linda Mulryan is deputy managing director for Ballymore in Ireland and said: "We are looking forward to welcoming customers through our doors at Sea Gardens, showing them around these well-designed, high-quality new homes for the first time.
"Designs here are very much a nod to Bray's distinct landscape, and we've brought as much of that into our aesthetic in each home. Fresh colour palates have been inspired by Bray itself and are evident in features such as each bathroom's terrazzo tiling, to the pastel hues of the kitchen units, to the rendering outside.
"We have embraced the local environment to ensure that each property type has its own character, with its own unique story, and we are excited about sharing the intricacies of that with customers later this week."
Homes in the new release stand adjacent to Sea Gardens' new multi-use games area and are close to the Market Square; the latter will become a focal point for the neighbourhood, with plans for regular food markets and artisan pop-up events. Residents of this first phase will also benefit from a creche, café, convenience store, and plentiful seating areas, while the entire site boasts a total of nine-acres of public open space, including the five-acre Central Park that will offer landscaped gardens, and informal games courts.
Sea Gardens straddles the counties of Dun Laoghaire-Rathdown and Wicklow, falling on the boundary line between both counties; that distinction has been recognised and subtly integrated at Sea Gardens, with paths and planted areas linking to the adjacent parkland and residential streets. An example include's the which Linear Park will link Corke Abbey Valley Park to Bray Harbour, and the adjacent Great Lawn which will feature a playground.
Connectivity is also key, with the DART to Dublin City Centre, and access to the M11 and M50 motorways all ensuring Sea Gardens residents will never be too far from where they need to be. The neighbourhood is also close to the centre of Bray, its neighbouring town of Greystones, and is served by high quality education providers from pre-school to primary and secondary schools, several language schools and a third-level institute.
Linda continued: "Sea Gardens is a place for 21st Century coastal living, somewhere we hope will become a great example of a connected, thriving, and happy neighbourhood."
For further information, please register your interest here.