Property
Bringing the best of the city to the neighbourhood
A good place to live, work and spend time where the essentials of daily life are within a gentle 15-minute walk or cycle ride rather than a drive away: that's the fundamental principle of the 15-minute city concept. Created by Professor Carlos Moreno in Paris and promoted by that city's mayor, this way of thinking about what makes a good city is now capturing interest in London and other locations that are plotting a more sustainable future.
London has a rich tapestry of more than 600 high streets and neighbourhoods, many historically already having some of the characteristics that the 15-minute city concept promotes. Brentford, in west London, is one example, with its high street, waterside location and numerous activities. It has Ofsted 'Outstanding' rated schools and a university campus, major sources of employment, a health centre, shops and heritage businesses in its boatyards and breweries. There are also varied opportunities for leisure at Brentford Football Club, Watermans arts centre, the nearby green spaces of Syon Park and Kew Gardens and Green and even local museums showcasing musical instruments and water pumping steam engines.
Like a number of London's historic neighbourhoods, Brentford has suffered as traditional industry has diminished and shopping habits have changed. But that has created an opportunity to regenerate and help Brentford to shape its future sustainability, while making the most of its heritage and natural assets. A 4.79 hectare site between the high street and the River Brent is being regenerated by Ballymore with a mix of homes, 50 spaces for retailers and independent local businesses and a community hub, which will be created in a grade 2* listed church on the site.
The site was formerly fronted by shops and had historic waterside industry behind, limiting public access to the river beyond. Regeneration will integrate this site back into its neighbourhood and reconnect river and community. Open space will be created on the waterfront, while heritage buildings will be revived and reused and historic yards and lanes reinstated. Local people will be able to stroll, shop, eat, drink, work or simply sit and relax within this largely car-free waterside setting.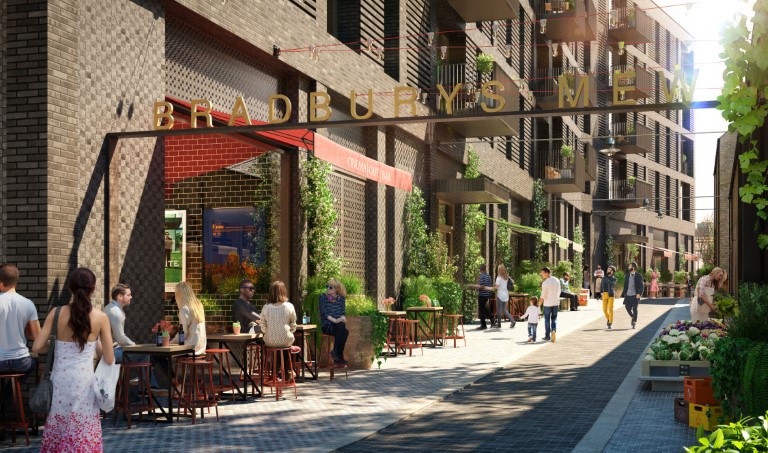 The new quarter designed by architects AHMM, Glenn Howells and Maccreanor Lavington will provide 876 homes in all. "Part of sustainability lies in building these high density schemes in locations where people don't have to travel very far necessarily to get to their work, school or other amenities. We also have a lot of facilities on site at The Brentford Project, which encourages people to stay in their local area," says John Mulryan, group managing director of Ballymore. Facilities in the residents' own club, The Wick, include a pool, outdoor games terrace, gym and meeting spaces. This placemaking approach with its emphasis on well-connected location, compact development and carefully considered uses can help foster social, environmental and economic value.
In his recent TED talk about his 15-minute city concept Professor Carlos Moreno says: "We accept that in cities our sense of time is warped, because we have to waste so much of it just adapting to the absurd organisation and long distances of most of today's cities. Why is it we who have to adapt and to degrade our potential quality of life? Why is it not the city that responds to our needs?" Perhaps now the city can.