News
It's hotting up at The Brentford Project
Temperatures soared to the hottest day of the year for the launch of The Brentford Project on Saturday June 1, the new arts and culture summer festival of music, yoga, fun and food celebrating a new chapter for one of west London's best-kept secrets.
Nearly 1,000 local residents, joined by neighbours from nearby Hounslow, Chiswick and Kew, basked in temperatures of 27.6 degrees on the banks of the River Brent with music from Donel, this year's runner up in The Voice talent show and Michael Rice, the UK's contender in this year's Eurovision Song Contest.
VIPs attending the event included the leader of Hounslow Council, Councillor Steve Curran, who proclaimed: "The Brentford Project is the rebirth of Brentford. We've been waiting a long time for this day, and I'm really excited about what this means for Brentford and for the future.
"Without question, the Brentford Project will bring a vitality to the town, lots of people have been waiting a long time for it, and now it's here I think they'll be delighted. Brentford's a special place. It's a special place in South West London and it's a special place in Hounslow."
He was joined by John Mulryan, group managing director of Ballymore, whose redevelopment of the yards and lanes between the high street to the waterfront will bring a lively mix of restaurants, bars and retail to complement a new residential quarter. John explained:
"The Brentford Project is an initiative to try to engage with the community and bring people in, and make sure that as we develop the town centre, it's done with the community"
"It's trying to get people to really help us to create this town centre. When you develop in a town like this, the key thing is that you develop in a way that encourages the spirit of the town to grow, by engaging in the community through culture, through arts, through creativity, through design."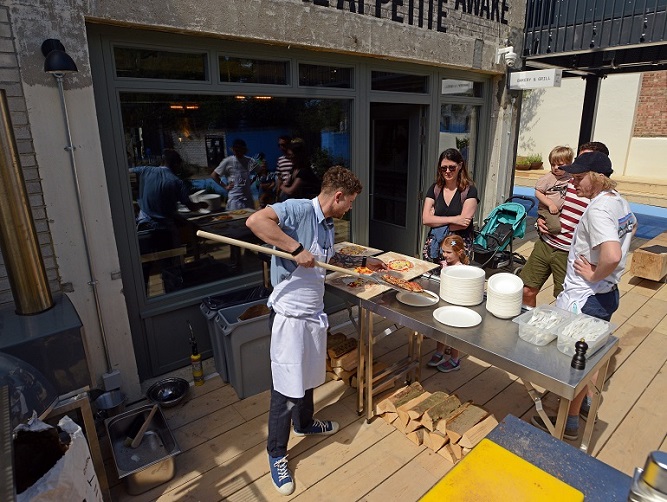 At the launch, friends and families enjoyed delicious fresh pastries and sausage rolls from Brentford's new bakery and restaurant, Rye by the Water, who turned out more than 1,000 specially-baked pizzas – with a little help from celebrity Irish chef Robin Gill who joined new head chef Ben Rand and Janine Edwards, head baker, in the bakery.
Another big attraction was the classic car collection of the Duke of London with enthusiasts driving their own cars to showcase at the event.
The following week on Thursday June 6, a Beer and Blues event will take place at Rye by the Water with a chance to sample some of west London's finest craft beers served against a backdrop of blues by Brentford's very own Robert Hokum.
And on July 11 visitors can join a start-up masterclass with local entrepreneur Merlin McCormack, the man behind Duke of London who will share his knowledge, tips and tricks for building a successful business.
Looking ahead to July 6, Zen in the City will feature yoga and mindfulness classes with RJ Mind Body while on Saturday August 31, the 'makers of Brentford' will be coming together for a showcase of the best arts and crafts the area has to offer, with creative workshops and an art exhibition curated by local artist groups.
Finally in mid-August, the Changing Face of Brentford will peel back the layers of the area's rich history revealing some fascinating insights with the Brentford & Chiswick Local History Society with a private dinner hosted in the beautiful surroundings of Rye by the Water.
Visit www.thebrentfordproject.com/events for more information or to book your place.