News
Talk of the town
London City Island townhouses radically 'reimagined' to offer optimum open space and connectivity, lacking in 'the little box' design of most traditional models, are making waves.
The individually designed townhouses are the brainchild of leading interior designers, Amos & Amos, which has already worked on key Ballymore developments at Embassy Gardens, Wardian and Dublin Landings since 2013. Said co-founder Jaki Amos:
"We wanted to move away from the traditional idea of the townhouse which sometimes can be a series of boxes, a collection of rooms with a door. We wanted to reimagine a new connectivity with more open space so the ground floor of each townhouse is open plan, with an expansive hallway and open study."
Materials in the townhouses reference "the industrial nature and heritage and history of the docklands with sleek crittall-style glazed partitions to flood the spaces with natural light and blackened steel to introduce character and soul into the space – not just Dulux brilliant white everywhere!" explained Jaki.
London City Island's largest homes with uninterrupted views across the River Lea, the townhouses are located next to English National Ballet's new London headquarters, placing buyers at the heart of an island of art and creativity.
The townhouses are also marked by a vibrant red brick façade, and each has three bedrooms, expansive living spaces, a secluded ground floor terrace and private parking. Three of the properties have lifts, and the largest has five storeys, and features in addition a beautiful private roof terrace for al fresco dining and entertainment.
The kitchens - the heart of each home – include a striking polished concrete island and black stained rough-cut oak dining table as focal points, complemented by timber and brushed brass cabinetry and white-oiled oak flooring.
The living rooms include low marble plinths and contemporary design features, leaving space for large scale art and sculptures. Amos & Amos has also incorporated a range of bespoke fixtures and fittings, including faraday-pattern metalwork and tan leather that reflect the area's maritime heritage, with industrial bathtubs and matte blackened steel brassware.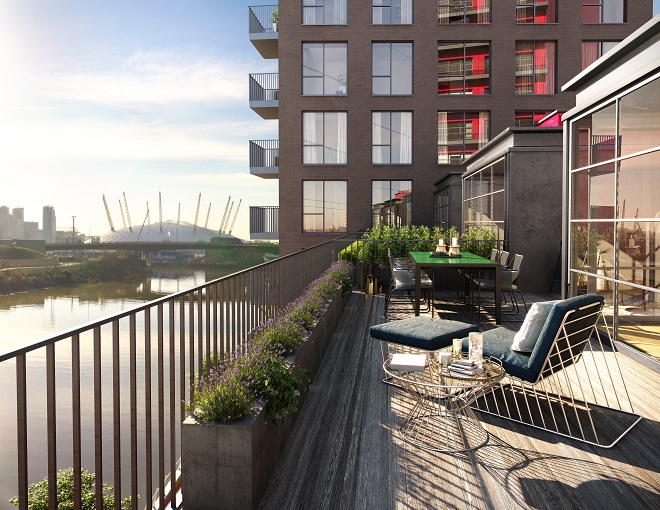 There are two townhouse-types available for purchase: four four-storey three-bedroom types and three five-storey three-bedroom townhouse, with prices starting from £1.45 million.
Jaki Amos said: "The townhouses marked a real opportunity to create unique design-led living spaces which build upon the Island's boldness and creativity, whilst simultaneously referencing the site's rich industrial past."
Jenny Steen, Sales Director, Ballymore, added: "Our vision for London City Island has always been to create a vibrant community that is architecturally-led and the townhouses are yet further proof of the unique living spaces on offer at the development."