News
Industry recognition across Ballymore neighbourhoods
English National Ballet (ENB), the iconic Glenn Howells-designed structure at the heart of London City Island, has been named as 'Building of the Year' by architecture magazine, Architects' Journal.
The 'Building of the Year' accolade is a prestigious annual architectural prize; judges chose the Glenn Howells-designed ENB because of its "use of materials and detailing", citing that it was "a fine example of how to design memorable, community conscious architecture." The building beat off competition from a stellar shortlist including office development 1 Finsbury Avenue and Tottenham Hotspur Football Club's stadium.
"The building has transformed the way we work."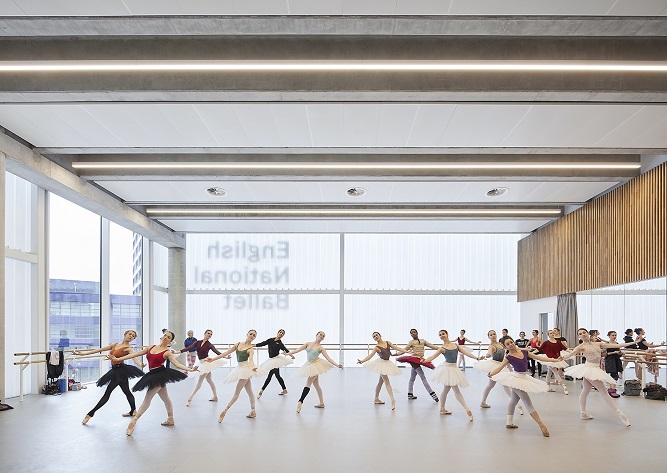 Tamara Rojo, Artistic Director of English National Ballet, accepted the award; in her virtual acceptance speech via YouTube she said "I can safely say the building has transformed the way we work.
"What I wanted for the company, was a space where we could create, where we could have freedom, where we could share our ambition and connect with the local community. A space where imaginations could be ignited and where everybody would be welcome. And we can safely say we did it."
The accolade came in a week in which three other awards nominations were announced for Ballymore - this time at the New London Architecture (NLA) Awards. The Brentford Project has been shortlisted for meanwhile use award, which celebrates projects that embrace the city as a work in progress, enlivening spaces, places and high streets over a short-term period, while supporting long-term ambitions – something achieved via the Brentford Project events programme last year.
Other nominees include English National Ballet, which has been shortlisted for the culture award, while Royal Wharf Pier has been shortlisted for the transport award. The full list of winners will be announced in November.
In the meantime, you can see a full list of all of the awards Ballymore has won on our achievements page.