News
Discovering the secret Gardens
Artisan coffee, world-class spa treatments and the best Guinness in London. Kate Wills samples the delights of the South Bank's latest destination - Embassy Gardens.
It's a warm September morning and sunlight is pouring in through the floor-to-ceiling windows of the coffee shop District. A young, international crowd work on their laptops. With the matcha lattes, Millennial-pink cups and Solange on the stereo this could be Sydney or LA. But it's actually Embassy Gardens, London's newest district.
"When I told people I was opening in Embassy Gardens a lot of them were like, 'Where's that?' admits Chelsea Finch, owner of District, over buckwheat waffles and a Peanut Butter Pow smoothie. "But I actually like that about it. It feels like Nine Elms is this secret pocket of this city that's not been discovered yet. It feels very pristine and new."
To the similarly uninitiated, Nine Elms is the recently-regenerated slice of riverside between Vauxhall and Battersea. The latest piece of this Southbank success story to come into bloom is Embassy Gardens - a community of apartments, restaurants and cafes all hugging the shimmering glass cube that is the US Embassy.
District was one of the first businesses to open here in November 2017, but it's already moved into bigger premises because it has been so popular. "We needed more room and a larger kitchen so when this space came up two months ago we jumped at the chance," explains Chelsea, whose first opening was a hole-in-the-wall coffee shop in Parsons Green. "This has been so much busier than I could ever have anticipated."
Chelsea, who hails Sydney, says that District has become a hub for the community. "I wanted to bring a bit of that Aussie, friendly culture," she says. "We have some really lovely locals and regulars alongside traffic from the Embassy. We've also become a bit of a destination for people who know their coffee and want to come and check us out. I get a lot of guys who work in tech coming in and telling me it's their dream to open a coffee shop. But I'm like, 'It's a lot of work!" Chelsea says the oat milk flat white is the best-seller, as are the home-made banana bread and granola, which are baked on site.
"It feels like Nine Elms is this secret pocket of this city that's not been discovered yet. It feels very pristine and new"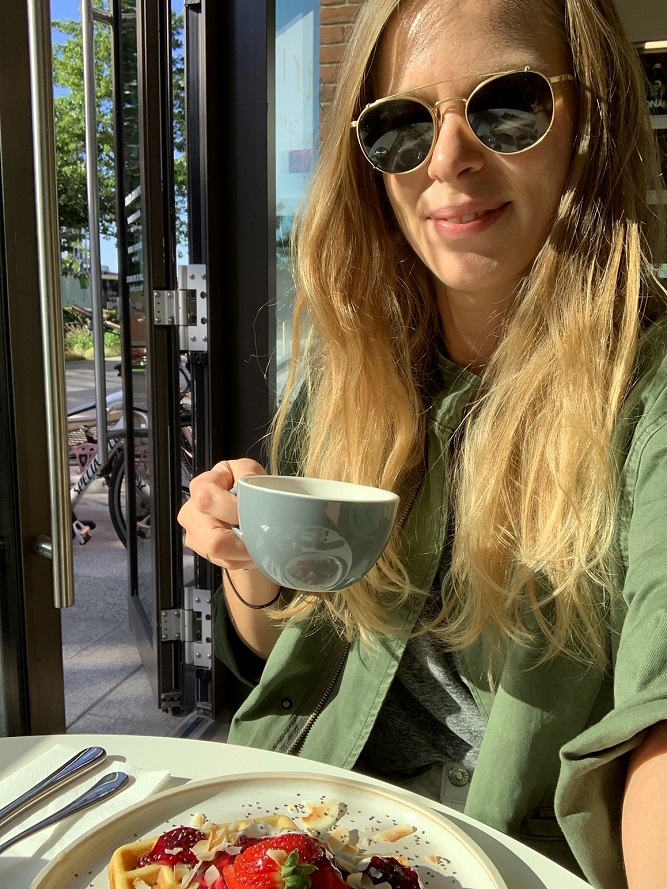 From used coffee grinds being turned into fuel, to their use of paper straws, sustainability is always on the menu at District. It's a similar story at Linnaean, a new health, beauty and lifestyle store just around the corner. Named after the Swedish naturalist Carl Linnaeus, owner Elena Tayleur has created a flower-strewn sanctuary with a 360 degree approach to wellness, where you can tuck into an acai bowl, have a quick manicure, or indulge in a spa treatment.
"It was really important to me to stock brands which have an eco-friendly outlook such as Grown Alchemist and Purearth," says Elena. "And with our beauty treatments you can opt for something medical-grade which uses LED light therapy, or something more holistic like an aromatherapy massage."
Elena, who is also a Nine Elms resident, says there is already a sense of community and character here, and she wants Linnaean to be its hub. "Although we're in a big city, it feels very local," she says. "There are a lot of freelance people here who work from the restaurant every day and we know their names and their usual order. This is a place where we want people to feel nurtured."
In a green, pink and gold treatment room upstairs, I experience a HydraFacial - a six-stage process of exfoliation, massage, masks and warm towels, which leaves my skin looking so plump and glowing I have to take a post-treatment selfie in the ornately-decorated toilets.
I take my flawless face to Darby's, the new restaurant from award-winning Irish chef Robin Gill. The Masterchef Ireland judge, who also runs The Dairy, Counter Culture and Sorella, has called Darby's his biggest project to date - and has promised it will serve the best Guinness in London. There's an on-site bakery, an in-house butchery, house-made charcuterie and a grill for cooking over-fire. Many ingredients are sourced from Gill's own farm in West Sussex.
I start with a few Jersey Rocks and a glass of Veuve at the central oyster bar, and then move to one of the low-lit banquettes for some Stracciatella, which is so soft I could eat it with a spoon, and a rich Pappardelle Dexter beef ragu. Somehow, I even squeeze in a peach sorbet.
Belly full, face still glowing (but that could also be the champagne), I sit in the grass in the beginnings of the Linear Park, a belt of green sculpture gardens that will eventually run from Vauxhall tube to Battersea Power Station. It's a great spot to admire the architecture of EG.
Before I leave, I pop back to District for a flat white to go. Chelsea points out the space nearby where Preen and Burberry just held their fashion show, as well as the building that Penguin, the publisher, will move into in the coming months. "From fashion to culture to food there's so much starting to happen here," she says. "It feels like Embassy Gardens is on the map."
Kate Wills is a writer based in London. Her work regularly appears in The Times, The Guardian, The Evening Standard and many more.