Arts and Culture
Hitting the high notes - new oyster bar, bakery and grill at Embassy Gardens
The trend pioneered by Ballymore to "create communities" reached the stars this week at the celebrity launch of the latest restaurant by award-winning Irish chef Robin Gill at the landmark Embassy Gardens development at Nine Elms.
"For us, it's always been really important to create a community experience – usually even before the residents move in," explained Ballymore's Head of Communications Hayleigh O'Farrell. "We started the trend at London City Island and we have taken that to the next level at Embassy Gardens with Darby's, Robin Gill's new restaurant.
"Ballymore has always understood that you have got to really invest in creating a destination. And in Robin Gill, you have a really good talent who is not only local to the area with The Dairy in Clapham but who will be there every day, getting to know people by name and creating a genuine neighbourhood feel."
The neighbourhood experience will prove especially key at Embassy Gardens where analysis shows the development has more 'home working' residents using the business centre than any other Ballymore communities. "They're mostly millennials who want to socialise - they want a meeting place," said Hayleigh.
And that's where the new restaurant by Good Food Chef of the Year Gill, who called the new restaurant 'Darby's' after a family name inspired by the jazz career of his father – is set to become a key EG venue when it opens its doors on May 27. "And you can be sure jazz and music will be a big attraction."
At the launch this week, dozens of London's glitterati came together for the private party, with guests including BBC music host Annie Mac, singer-songwriters Molly King and Vanessa White.
The Irish TV presenter Laura Whitmore, comedian Iain Stirling, Made in Chelsea's Caggie Dunlop and top chef Michel Roux Jr. joined many others from the worlds of food and music.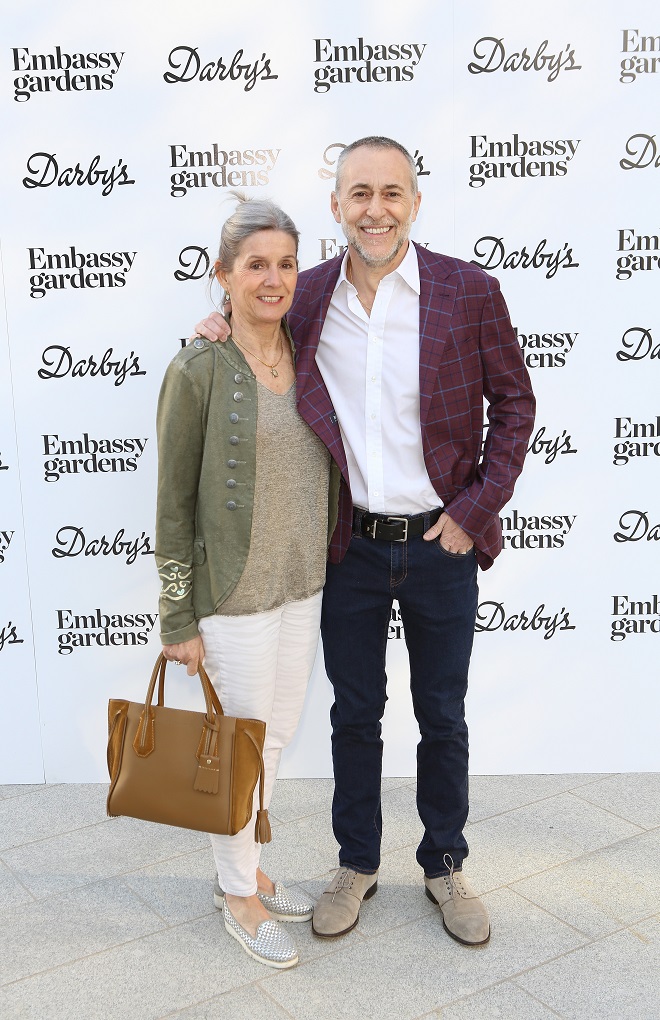 In one of the biggest and most exciting London restaurant openings of the year, the event included performances by the French pop band The Gypsy Queens and DJ sets from Arveene and US rapper Shamon Cassette.
Guests experienced Robin Gill's culinary flair, choosing either to perch at the central oyster bar for a selection of Ireland's finest Dooncastle oysters, or sampling signature dishes including arancini, Exmoor caviar and truffled brie. Guests also enjoyed Guinness, champagne and bespoke cocktails.
Designed by the international design and concept firm AvroKO, the 544 sq. m restaurant will exude a mid-century modern style, incorporating classic furniture inspired by the 1951 Festival of Britain on London's South Bank, seating 130 diners.
Once complete, the Masterchef Ireland judge will also run the Sky Pool's exclusive restaurant on the 10th floor of the building, offering fresh pasta and woodfired pizza on the Sky Deck with sweeping views of the new US Embassy and River Thames.
Dubliner Gill said of the launch: "I am delighted that my vision for Darby's is now becoming a reality. It is my biggest project to date and I am grateful that Embassy Gardens have given me the opportunity to open a restaurant with real personal significance.
"Darby's will provide a true taste of Ireland – and we're looking to pour the best Guinness in London or at least as good as the Guinea Grill!"