News
Dublin Docklands
As recently as 15 years ago, Dublin Docklands was still a sprawling, run-down post-industrial heartland. But today, it's a vibrant addition to one of Europe's most exciting and and friendly cities epitomised by Ballymore's latest mixed-use development, Dublin Landings, says Conor Ferguson. Give me some history The Dublin Docklands region straddles the River Liffey, a grand watery thoroughfare celebrated by James Joyce and Radiohead, among others. It consists of a spread of different quarters, north and south - each with its own flavour. Back in the 19th and 20th centuries, the docklands handled the contents of countless ships sailing in and out of Dublin Port, which - in its day - was home to the largest docks in the world. There were shipyards where vessels were built and repaired. There were flour mills and fertiliser companies, coal heaps and cattle pens. Five glassworks operated in the Ringsend area alone, one manufacturing bottles to hold Guinness stout, which was growing ever more popular.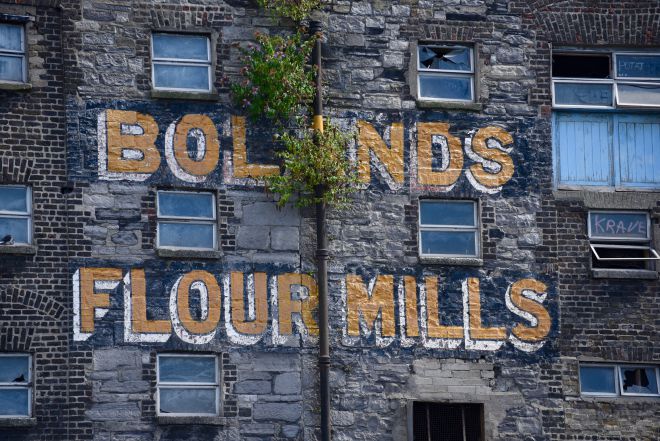 What's that about Guinness? Well, the home of the hallowed black stuff is about a mile up-river at St. James's Gate – near where the original Dublin settlement was built by Vikings in 1088. Back down along the quays, the Guinness family moored ships for decades, to deliver barrels of stout to Great Britain and beyond. Indeed, one of these vessels, the M.V. Miranda Guinness was converted into the world's first beer tanker, with a capacity of 205,000 gallons - or 1.87 million pints! Getting back to Dublin Docklands Yes, quite. Dublin Docklands went into decline with the arrival of containerisation. The area remained a dank and pungent blot on Dublin's city landscape for generations, until the Dublin Docklands Authority initiated a massive regeneration programme, beginning in 1998. Since then, the area has metamorphosed into a European hub for innovation and social connection. The skyline has been transformed too. Where once cranes, heavy machinery and endless warehouses stood, now stand cutting edge offices and apartments reflecting upon each other, windows onto the thousands of people who now work and live in this hip, new community. Google set up their European Headquarters here in 2012, kicking off what has come to be known as Silicon Docks. Many global tech giants have followed, establishing major bases north and south of the river. These include Facebook, Twitter, Yahoo, LinkedIn, Airbnb, the list goes on.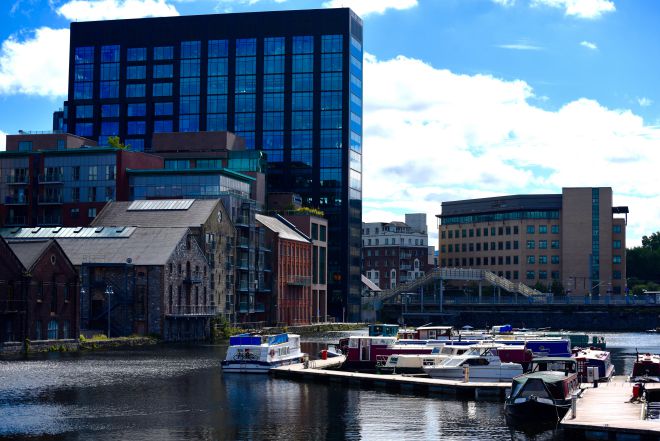 What's going for it ? Aside from being just a quick hop away from Dublin's city centre, Dublin Docklands offers many attractions and distractions. On the north side there's shopping at CHQ, the charming Harbour Master bar, and Point Village with more shopping, dining and cinemas, not to mention the 3 Arena – host to some of the world's biggest music acts. A stroll south across the river brings you to the Grand Canal Dock, lined with cafes and restaurants. Follow the "red sticks" to the Bord Gais Energy Theatre – designed by Daniel Liebeskind - with a great line-up of musical and theatrical goings-on. The Square features a striking red "carpet" made of bright red resin-glass paving covered with red glowing, angled light-sticks. Follow the carpet from the theatre to the edge of the canal basin, where you can spot wake-boarders and the famous Viking Splash amphibious tour bus in action. A little further on is the Aviva Stadium a wobbly, shimmering emitting roars of anguish and joy on many major international sporting occasions. Back on the north side, not to be outdone, stands the beloved Croke Park GAA Stadium where Gaelic football and hurling are played. Globe-busting acts like Bruce Springsteen and Beyoncé have played here too! Well connected? Dublin Docklands is a hub for the city's many transport links. The DART suburban rail line, which runs from one end of Dublin Bay to the other, stops at Barrow St (near Grand Canal Dock) on the south side and Connolly Station on the north side, which connects with the Irish Rail intercity service. The north docklands are served by the LUAS tram system. Currently, the Red Line runs from the Point Village/3 Arena right up as far as Tallaght in the Wicklow Mountains. But work is underway to create an expansive LUAS network to serve the wider city and suburbs The city is well-served for cyclists too with the Dublin Bikes free bike scheme, which ensures you're never far from where you're going. Unless you're going much further afield, in which case, Dublin Airport less than 25 minutes away coach.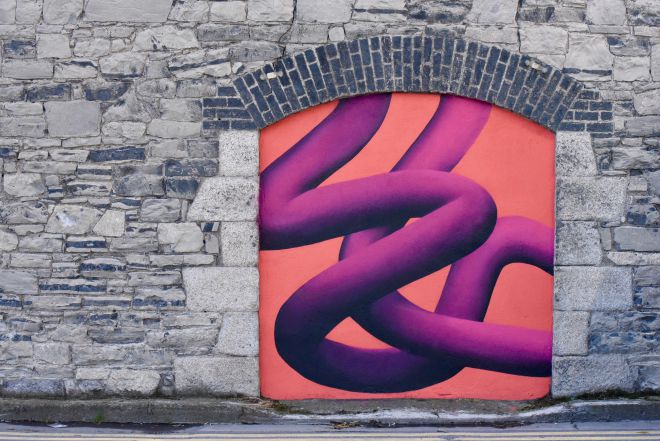 Located between Dublin's international airport and historic centre, Dublin Landings will be a 1,000,000 sq ft development comprising of 5 office buildings, a boutique hotel, green streets & squares, 273 apartments, an 11,000sq ft gym and the central bank of Ireland. For more details visit our Dublin Landings website. Conor Ferguson is a Dublin- based writer and photographer.