News
Come dine with me
Inviting a neighbour for a cup of coffee or a meal can make all the difference when you have just moved in to a new development say Ballymore residents.
The idea of turning a house into a home may be a familiar one, but what about a new development or apartment block becoming a friendly community?
What is the alchemy that brings about such transformations?
Mel Henson, who lives at London City Island, says that being prepared to speak to people you meet is the most important thing when you move into a new neighbourhood.
"A lot of people I've got to know, it's just began with saying "hi, have you been here long, striking up conversations," says Henson, who adds that she's "amazed" at the strength of the community feeling. That may be because getting to know people in a new development can be easier than an established community as people arriving roughly at the same time already have something in common. Henson believes that London City Island itself attracted like-minded people.
"Ballymore wanted to create a community and so it attracted people who moved in wanting to make friends and were very receptive when people said 'let's have a game of pool tonight, that kind of thing."
The Facebook group and the recently formed residents association have played an important role, and Henson says she would advise anyone moving in to join them:
"The Facebook group is quite a lively group," she adds. "There's quite a lot on there, with people sharing all kinds of stuff from isn't it a lovely sunset, to I've got a mattress I don't need, does anyone want it?" to can anyone lend me a can opener?
Having the opportunity to meet people in less formal ways, at the gym, or in communal areas, has helped Eva Svatkova, who is originally from the Czech Republic to feel more at home in Embassy Gardens than places she's lived previously in London.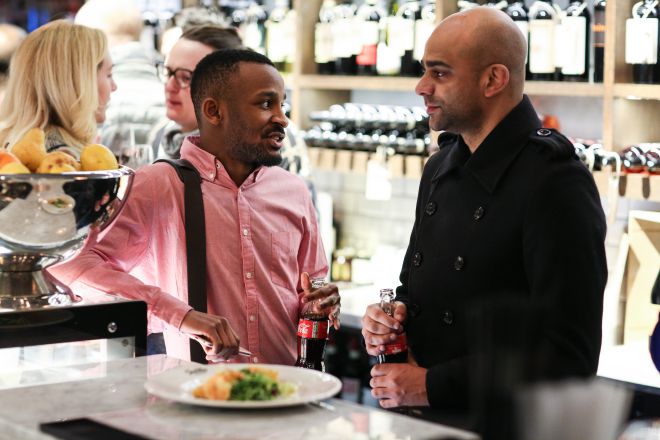 "We lived in a smaller development, with about 70 flats, but we didn't have any resident facilities and because everyone's busy, you don't have the opportunity to meet and establish relationships," she says.
A residents' association that is being set up is the result of people getting together to discuss issues that arose after they moved into their new homes. But as people have got to know each other, the emphasis has shifted towards socialising:
"We now do things like invite each other for dinner, so it's becoming more friendship based," she says. "It makes a big difference, because London can feel like a hostile place when you first move here. You might not expect a development of this size, with 900 flats to have such a strong community, but it makes it much nicer even if you bump into someone in Waitrose and can stop and have a chat."