OPINION
A thoroughly modern muse
Fashionable, charming, characterful: these are just a few of the adjectives applied to a home we today regard as a quintessential part of London - the mews.
Its distinctive design inspires modern architecture of the highest order but the origins of the mews is distinctly modest and more than a touch eccentric.
The term arose from the 'mewing' - or 'caging' - of hawks during their annual feather moulting season during the late 15th century reign of Henry VII. This happened in a building at Charing Cross and the 'mews' name stuck when, during the following centuries, the property was used for horses working with the Royal Household.
When aristocrats moved into central London in the 18th and 19th centuries they created great estates in Kensington, Knightsbridge, Belgravia and Westminster. The families lived in five storey mansions adorned by chandeliers and hand-carving - staff, meanwhile, tended the horses and carriages in two storey warehouses on nearby cobbled lanes.
And so the London mews was born.
The title became more familiar as more were built and the lanes christened to give the term official status: Rutland Garden Mews, Norman Mews and Wavel Mews were just a few of the earliest lanes whose titles - and mews - remain to this day.
Its transition from 18th century animal quarters to being amongst the capital's most sought-after and expensive properties today is down to a cocktail of celebrity and notoriety.
The first planning consent for formal conversion from a stable to a home came in 1908 but the mew's reputation as a celebrity pad began in the 1960s when Michael Caine - then a newly-minted movie star - was one of the first famous names to live in one.
He was followed by musician Jacqueline du Pré, comedian Peter Cook, writer Agatha Christie and Formula One maverick James Hunt; more recently, Madonna and Noel Gallagher have been residents.
But there's a 21st century twist to how mews have been renovated and extended in recent years. For unlike those grand mansions they used to serve, many mews buildings have not been listed and so allow architects breathing space for contemporary creativity.
Stable areas have naturally become state of the art garages for supercars - we're talking climate control and customised inspection pits. In hitherto-cramped living areas, mezzanines have been installed to provide additional storeys while roofs have be transformed into spectacular entertainment terraces.
The installation of industrial beams has made some into street-level loft-style apartments, while glass walls and imported marble have turned others into homes every bit as modern as the newest apartment.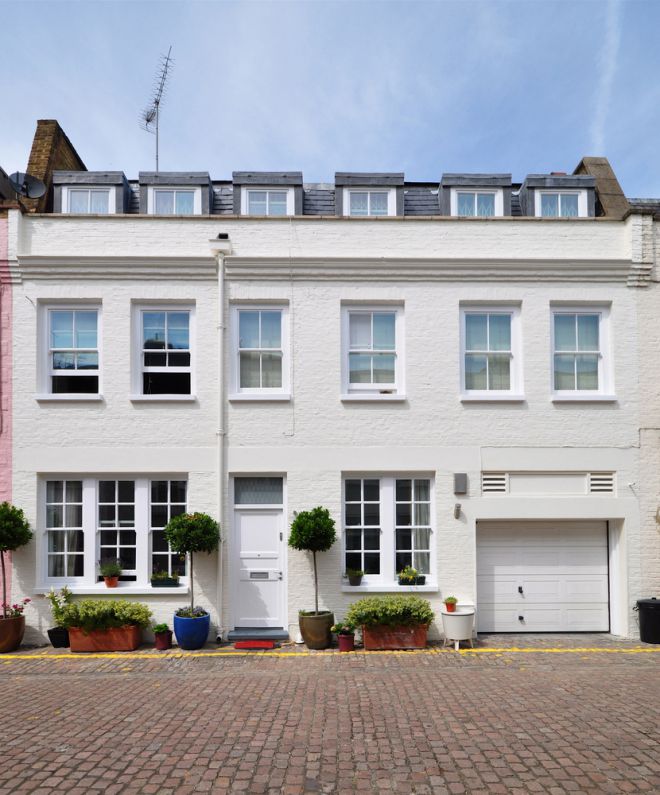 In turn, some architects have adopted and adapted the classic mews style for their 21st century projects elsewhere in London.
For example, SAM architects used a mews layout for a small one-off house in Denmark Hill, with a 'stable' kitchen fronted by a folding facade providing privacy or light, depending on the user's mood. And in Bloomsbury, a new house on an infill plot - designed by Jamie Fobert Architects - is a bold series of levels around a dramatic lightwell, to provide a starkly contrasting final property to complete a series of historic mews.
With such radical reinterpretations, the essence and integrity of the mews remains as strong as ever. Its appeal to modernists and traditionalists alike - and its inspiration for Ballymore's new houses at the heart of Nine Elms on the South Bank - suggest it has enduring values of distinctiveness and quality, open to renewal and transformation.
Such a description could perhaps equally apply to London - and for an ever-changing city proud of its past and its future, what better property to be identified with than the mews?
Ballymore is offering buyers who purchase a Mews House at Embassy Gardens a generous contribution towards contemporary art work for their new home. In a partnership with Frieze, the money will be spent when the houses are completed in 2019.

Graham Norwood is a freelance property writer contributing to the Financial Times, Sunday Times, Daily Telegraph and a range of lifestyle and property industry publications.

Photography credit: Ron Ellis/Shutterstock.com