News
A garden city pop up
A spring garden outside Canary Wharf Underground station was just one element of an eye-catching pop up that marked the recent launch of Wardian London's West Tower together with a bespoke gardener service.
The temporary 'forest' of pines, cedars, and a host of other trees and plants in an area as busy as Canary Wharf was an expression of landscape architect Huw Morgan's passion for creating havens of natural beauty in the city.
"We created a spring garden, with an unusual collection of trees and very unusual seeders, underlaid with spring flowering magnolias that sit within the pine and cedar forest", says Morgan, whose belief is that the therapeutic qualities of plants and natural environments become particularly vital in an urban context.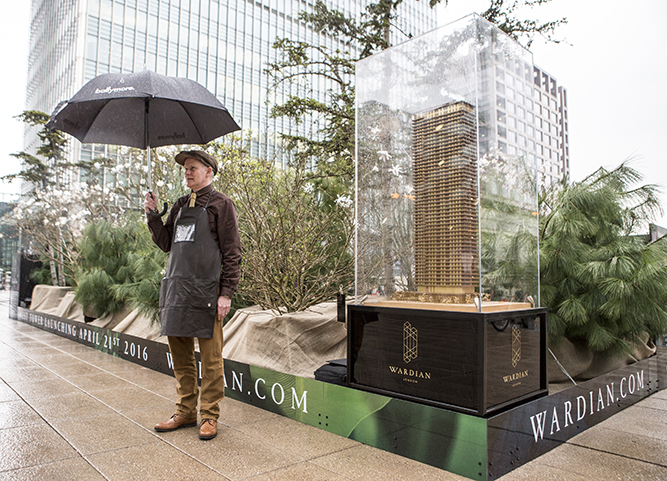 ​This core belief in the importance of greenery in the city is being realised with a bespoke gardening service that will see a new balcony garden system rolled out across the Wardian London development. Devised with Blackdown Horticulture, a leading expert in green roof technology, the Wardian Gardener is introduced in a Ladybird-inspired book with 'notebook' descriptions of the ferns and succulents to choose from, plus other features that can be selected.
The book was launched along with a partnership with Tregothnan Estate who provide tea bushes for the pop up. The only tea plantation in Britain is also permanent home to the last remaining original Wardian Case, a replica of which was on display at Canary Wharf throughout the week. First created in East London to transport tea plants - and a flat-pack prototype of their time - the distinctive glass case is also a homage to 19th-century botanist Nathaniel Bagshaw Ward who popularised it as a means of transporting plants and whose legacy is at the heart of the scheme.
Julie Tomlin is a freelance journalist who writes for a variety of national titles, she was previously deputy editor of Press Gazette.