News
New residents discover the joys of the urban retreat
The first residents are moving into Ballymore's Goodluck Hope, where they are discovering the delights of location and lifestyle that the new neighbourhood on east London's Leamouth Peninsula has to offer. The development's location, at the confluence of the River Lea and the River Thames, gives residents a rare experience of waterside living with some of the capital's finest views, which are being enjoyed to the full by Andrew Ashby, who moved into a two-bedroom apartment with partner Tony in July. "We love being near the river as it means there is always something to look at and it provides a beautiful peaceful surrounding from our private balcony," says Andrew.
Their 925 sq ft home on the seventh floor of the development's Argo building looks south and west towards the River Thames, O2 and Canary Wharf. "At night when Canary Wharf is all lit up, it is comparable to a 'mini Manhattan'," Andrew continues. "It really does feel as though we've entered a holiday resort the moment we step into Goodluck Hope."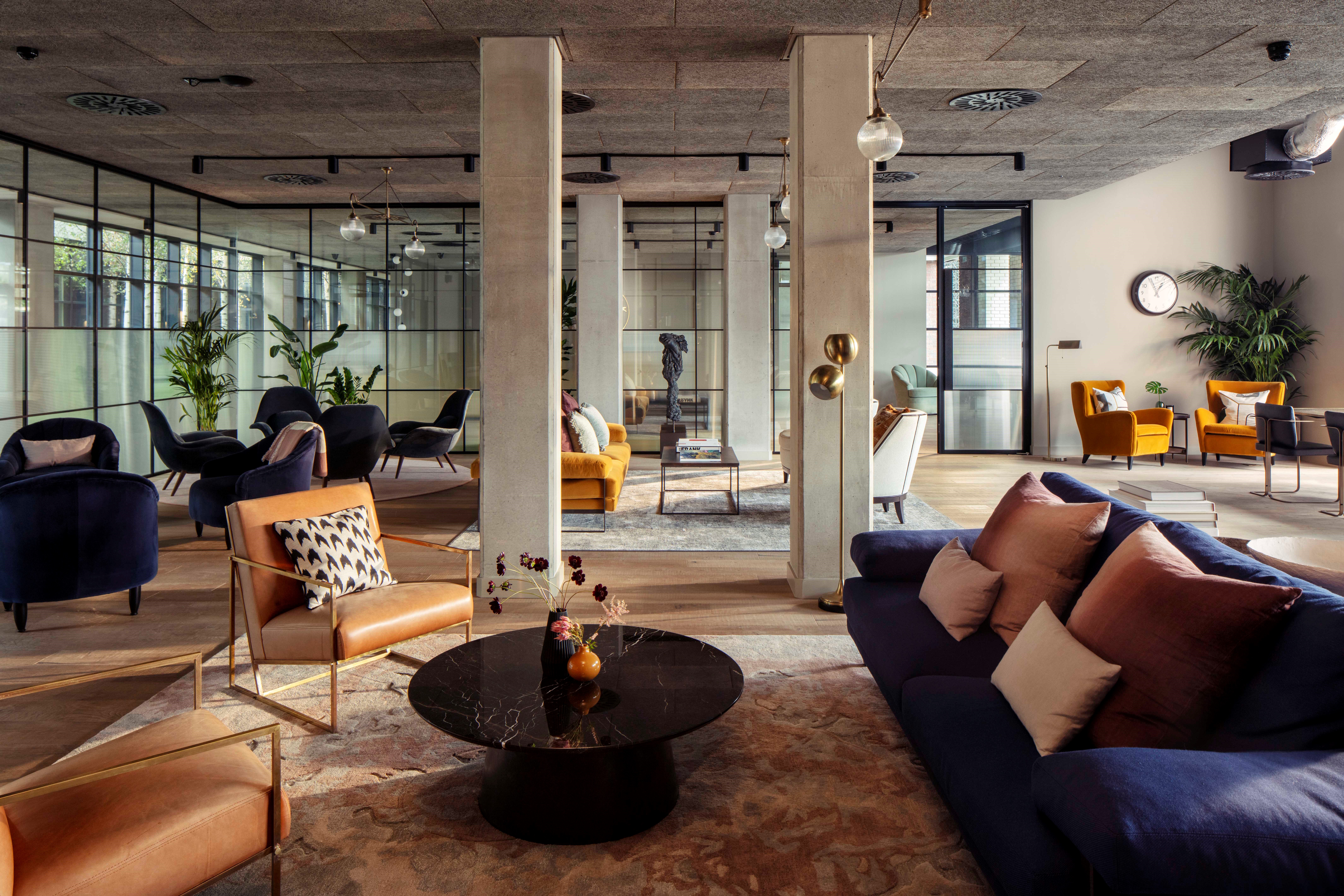 The new development's architecture lives up to its stunning waterside setting with its contemporary take on an industrial aesthetic, which was created by architect Allies and Morrison and inspired by dockside warehouses and maritime heritage. Black metal windows frame views from the apartments, while interiors boast a stripped back palette that makes its statement using texture and splashes of colour. "We like the fact that the whole development inside and out has an industrial vibe, and a lot of thought has gone into the design of everything, which has become even more apparent as the CGl's of the marketing brochure have come to life," says Andrew. "We particularly love the style of the windows, which add instant character to the whole development. The blue and brass kitchens and bathrooms, to me, make the development stand out from the crowd even further."
Andrew, a house husband with a passion for property, divides his time between the new home at Goodluck Hope and another in Essex. The London property was bought not simply as an investment but for its opportunities to make the most of the urban lifestyle. Goodluck Hope's own amenities for residents, housed in The 1595 Club, include a swimming pool, gym, Scandinavian-style steam room, private cinema, restaurant and co-working space, while a 24/7 concierge is also on hand to take deliveries and offer a helping hand. And the attractions of the capital are within easy reach, as Andrew and Tony are discovering. "At the moment, our weekends are taken up with day trips to Greenwich – looking round the market and regularly going for a walk to the Observatory, taking in our favourite view of London," says Andrew. "We also love that we can hop on the Jubilee Line to Westfield Stratford in less than 20 minutes for shopping trips.
"While many others escape London to their country homes for the weekend, we find the opposite is preferable and love being in our London apartment, enjoying all the activities and entertainment the island has to offer."
You can see more of Andrew's move to Goodluck Hope on his Instagram: @essex_and_the_city