News
Sky Pool structure raised into place at Embassy Gardens
London has gained a new landmark and a 'world first' with an achievement that Ballymore Chairman and Group Chief Executive Sean Mulryan describes as, "the combined skills and innovation of experts all over the world." The milestone is the much-anticipated arrival and lifting into position of the acrylic structure of the Sky Pool at Embassy Gardens, in Nine Elms. It is the largest freestanding acrylic pool structure in the world.
This extraordinary achievement is now being revealed with the latest phase of its construction. The swimming pool's 14 metre long transparent acrylic structure has been lifted 10 storeys up into the air and installed in its steel frame, spanning Embassy Gardens' Legacy Buildings. The location and transparency of this 'floating' pool will give Embassy Gardens' residents the extraordinary experience of swimming and viewing the ground and the capital from the water while 35 metres up in the sky.
Architect HAL Architects, structural engineer Eckersley O'Callaghan and acrylic fabricator Reynolds Polymer Technology collaborated with the developer to design and construct the pool, drawing on the expertise that has gone into creating some of the world's major aquariums. The structure, which is the largest single piece of loadbearing acrylic in the world, was created in a purpose built extension at Reynolds' factory in Colorado, USA. It was put through extensive strength testing at the factory before being transported more than 1,000 miles by road to Galveston in Texas. From there, the structure made a three-week journey by sea to Antwerp, in Belgium, and then on to the Port of Tilbury in east London, before arriving at Nine Elms.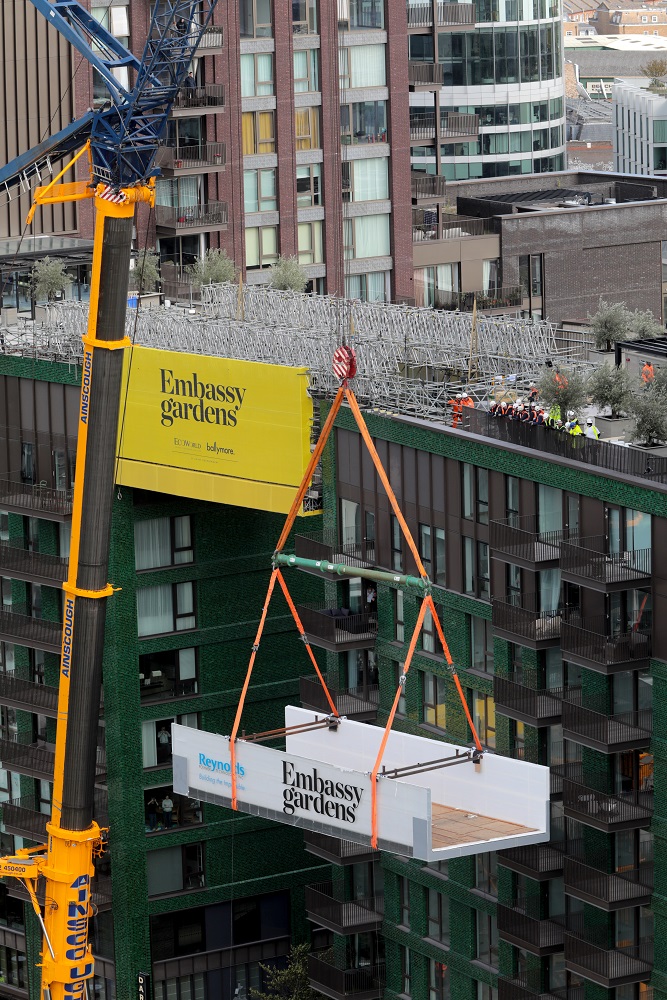 Once on site, the acrylic structure was lifted into place by a 750-tonne mobile crane, supported by a 50-tonne crane. The lifting was a precision process, as there was a tolerance of just 30 centimetres in installing the pool into its steel frame.
The side walls of the structure form deep beams capable of spanning the 14 metres between the two buildings while carrying the weight of the water. The central acrylic structure is supported by stainless steel 'tubs' at either end that allow for steps into the pool, giving an overall pool length of 25 metres.
The Sky Pool will open next spring, when residents will be able to swim between the two buildings and relax on the accompanying Sky Deck, with its a bar and restaurant.