News
From margarine factory to cultural quarter
Look at London City Island, on the Leamouth Peninsula, today and it is already hard to imagine how it used to be. Over the course of 13 years the site has been dramatically transformed from an area of post-industrial decline and dereliction to an urban quarter, where brightly coloured apartment blocks rub shoulders with a shimmering new centre for English National Ballet (ENB).
Here Ballymore has created a very different kind of place, where culture and living are interwoven and take equal billing. It has the ENB, a new facility for the London Film School on the way, cafes and creative businesses, like arebyte gallery, filling the ground floor spaces of its apartment blocks with their 1,706 homes.
This mix has come about by design and determination. Ballymore had a brave placemaking vision to create a cultural quarter for London – and has doggedly pursued that vision. Its own design team, ENB and other creative occupiers and partners have shared that commitment to this ambition. And along the way, innovation, nurturing and hard graft have gone into creating every aspect of the development on this 12 acre site.
The end result is an innovative new model for placemaking, which has seen Ballymore working in partnership with creative businesses to generate a distinctive place and community. Ultimately it is not only a great place to live but also a social and artistic asset to east London. Here's a glimpse of how it was created, as we mark the week our team has completed the final residential block on the Island.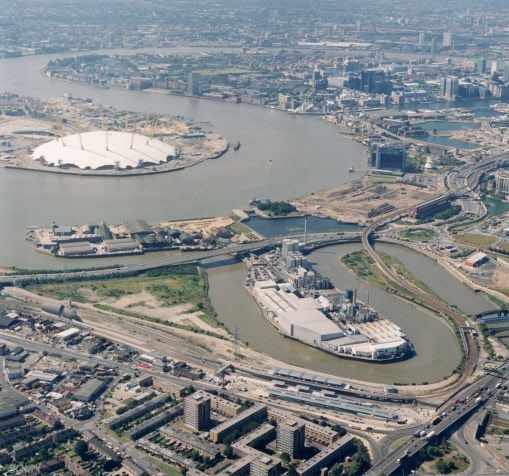 1800s – From industrial beginnings
Trade and empire drove dockland development to the east of the capital in the nineteenth century, but creation of the East India Docks made access to the Leamouth Peninsula difficult. This then-isolated location was, however, developed with industrial facilities serving the growing capital, and homes for their workers. First, in the 1800s, came the Thames Plate Glass Works, which was replaced later in the century by iron works and wharves. They were followed by Pura Foods which opened a refinery for vegetable oils for margarine and warehousing. The margarine factory was a familiar feature on the local skyline until it closed in 2006.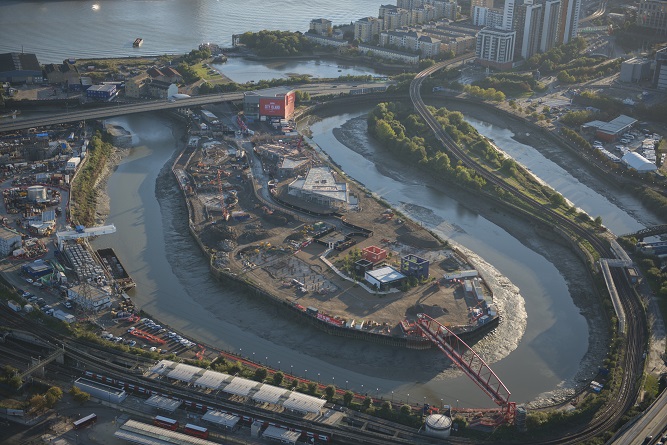 2009 – Establishing the vision
"The most brownfield of brownfield sites," is how Dan Mulligan, studio director with Glenn Howells Architects, sums up Leamouth Peninsula before regeneration. Its isolation and industry meant it had relatively few connections to the surrounding area and historic features, so developer and architect had to create a fresh vision for the site. The architect's masterplan laid the foundations for change, reconnecting the site to the broader area's dockland legacy and its waterside setting and drawing architectural inspiration from the simple forms and detailing of the site's old warehouses.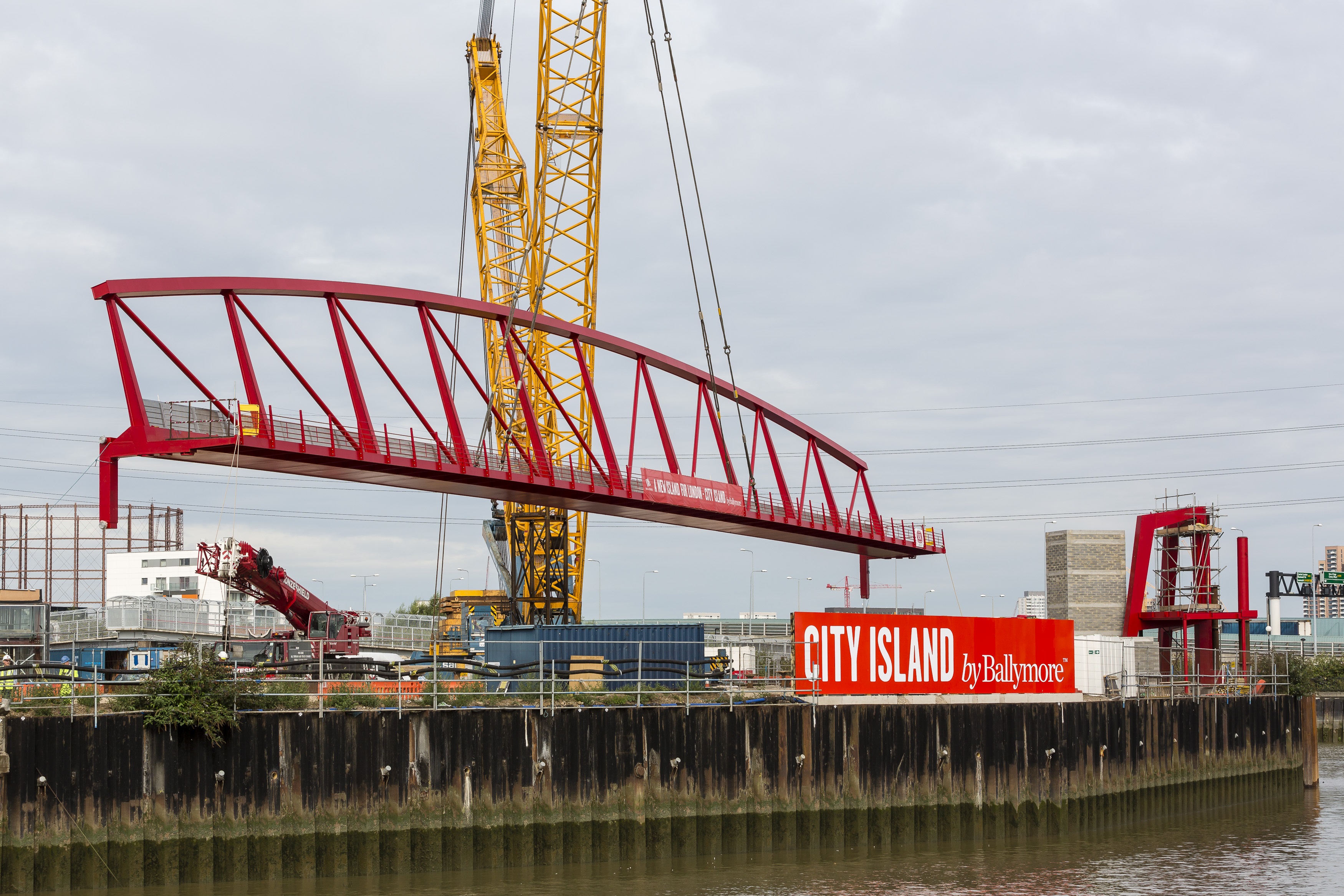 2014 – Linking in
The site's historic isolation was remedied ahead of the development of its homes, by linking it to Canning Town Jubilee Line station with a bridge across the Lea River. The move was transformational, but delivering the 80 metre red metal bridge, designed by Davies, Maguire and Whitby, was a challenge because of the structure's location, spanning two London boroughs, and its technical challenges.
2016 – High-speed construction
Construction of the site's 11 apartment buildings got under way in 2015, and was carried out with extraordinary speed and precision. Buildings were constructed simultaneously, rather than block by block, so at one stage of development some 1,100 homes – as well as the ENB's centre and a car park – were all under construction. Delivery relied on collaboration across the development team, with everyone from designers and site managers through to the sales staff checking the completed homes all focused on attention to detail.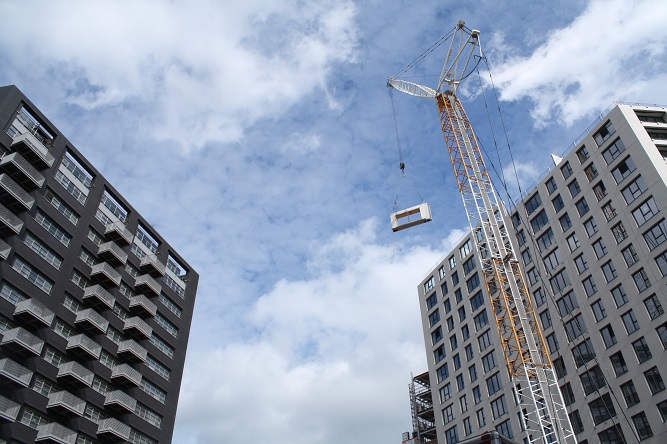 2017 – Innovative facades
Use of innovative prefabricated brick and concrete façade panels helped to speed construction, with each floor of a building being completed in seven days. In all, some 15,000 panels are being installed on the project. The colourful glazed brick exteriors were inspired by the exotic goods passing through this dockland area and by the architect's own interest in the Italian artist Giorgio Morandi.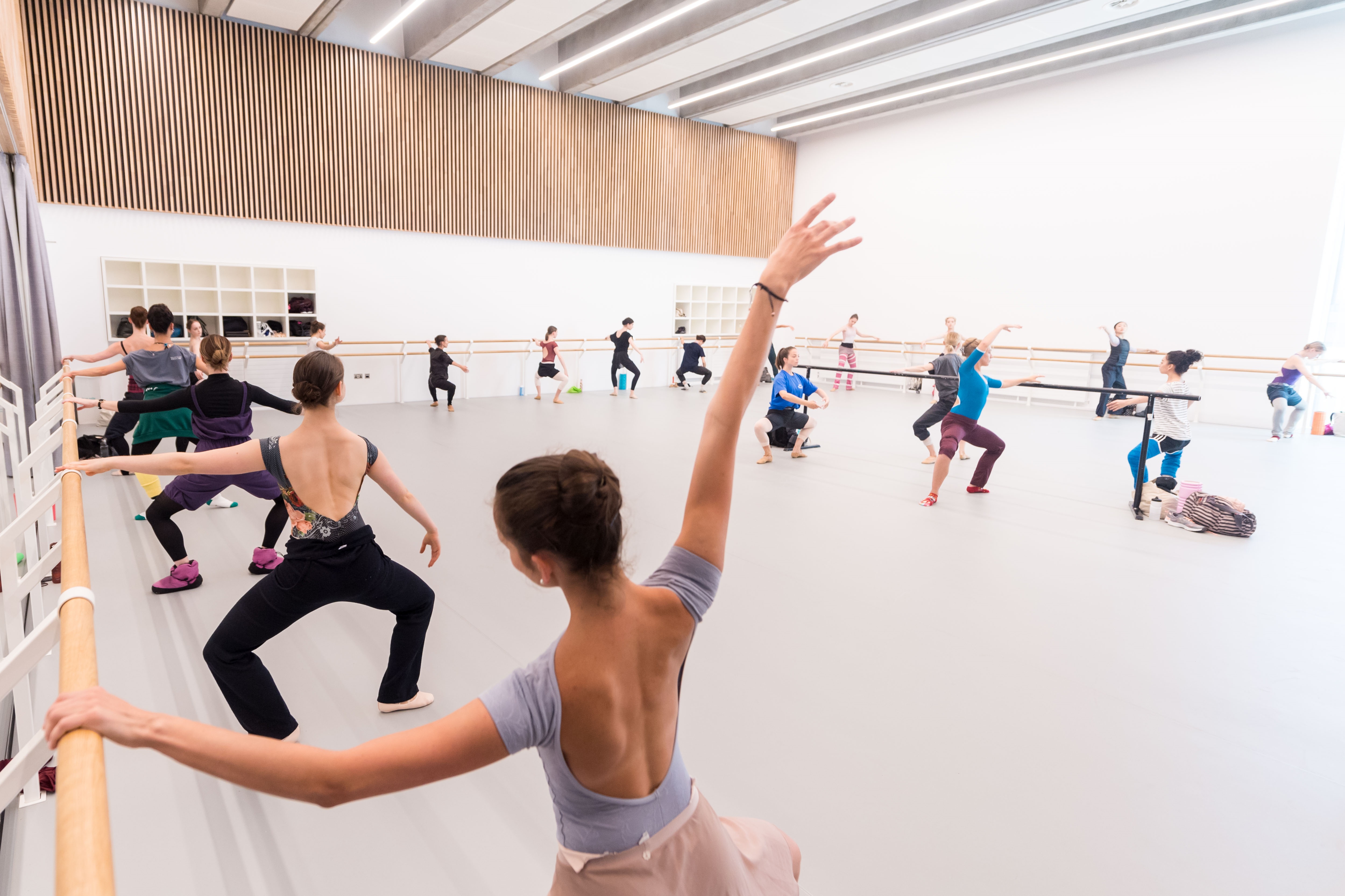 2019 – A heart of art and creativity
"It is my vision to make London City Island a home for art and creativity in the capital," was how Sean Mulryan, chairman and chief executive of Ballymore Group set out his placemaking ambition. That was fully realised last September when ENB moved into its purpose built centre, a translucent building described by the architect as the "pearl in the oyster". Delivering the ballet building alongside homes made this the most complex and demanding phase of the overall project for Ballymore Senior Development Manager Laura Corr, but it was also the most rewarding. "The first time I saw dancers in the top studio as I was coming over the bridge, it made me so happy," she says. The end result has been praised by Tamara Rojo, artistic director of ENB, saying, "I truly believe that this is the best ballet centre in the world, which will transform the way ballet is created and open up the creative process to our audience."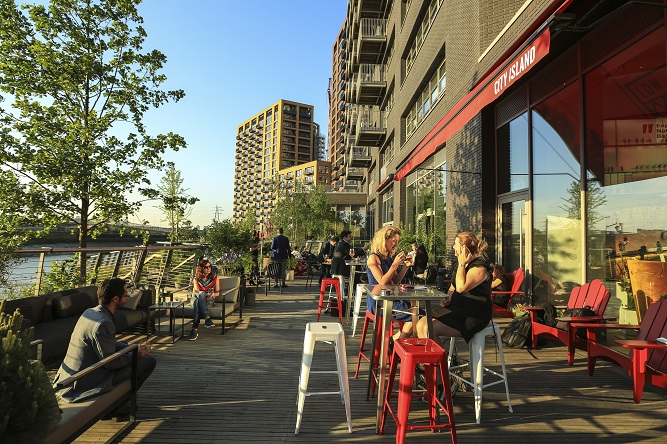 The future – It's all about people
The completion of City Island's homes and the opening of ENB mark its emergence as a community that is home, workplace, leisure destination and a pleasant stop-off point for a Sunday afternoon coffee. Architect Glenn Howells, says, "We first came to this island 10 years ago. What was historically perceived as 'good factory land' is now a collage of things, intriguing and different." Laura Corr adds, "We have created a place where people love to live and that to me is the ultimate compliment."