Douglass Tower - a place to live, work and play
The tallest tower on Goodluck Hope honours Britain's master lighthouse builder - famed for his love of heights and ingenuity.
The 30-storey Douglass Tower on Goodluck Hope, has been named after Sir James Douglass, the redoubtable designer of the English coastline's two tallest lighthouses - the Eddystone Lighthouse off the Cornish coast and Bishop Rock, on the Isle of Scilly.
Born in Bow, Tower Hamlets in 1826, Sir James Douglass was chief engineer at Trinity House, the chartered authority with workshops at Trinity Buoy Wharf, the site of London's only remaining lighthouse - also designed by Douglass - next door to the Goodluck Hope development, Ballymore's new waterside neighbourhood.
Bishop Rock, known as "The King of Lighthouses" is the starting point for ocean liners competing in the famous Blue Riband transatlantic race to New York. Its twin – the Eddystone Lighthouse – for which Douglass was knighted, has been set to music by the London Symphony Orchestra and its beacon flashes every 10 seconds, visible for 22 nautical miles.
Commenting on the launch of Douglass Tower, John Mulryan, Group Managing Director of Ballymore, said: "It gives me great pleasure to announce the launch of Douglass Tower. The building is a landmark feat of design and will transform Leamouth Peninsula in line with our work at London City Island. Ballymore is committed to preserving the unique heritage of all our development projects and we are excited to welcome new residents who value the cultural environment of the area".
Designed by architects Allies and Morrison, the tower builds on the area's distinctive docklands character but with a contemporary twist . Apartments each have custom glass and metal panels that can be moved to form 'winter gardens', which can be closed off to form a study space or an area for dining and entertaining.
At the highpoint of Douglass Tower is The Lantern Room, a shared flexible workspace where residents can work, create and collaborate with a unique panorama of London as its backdrop.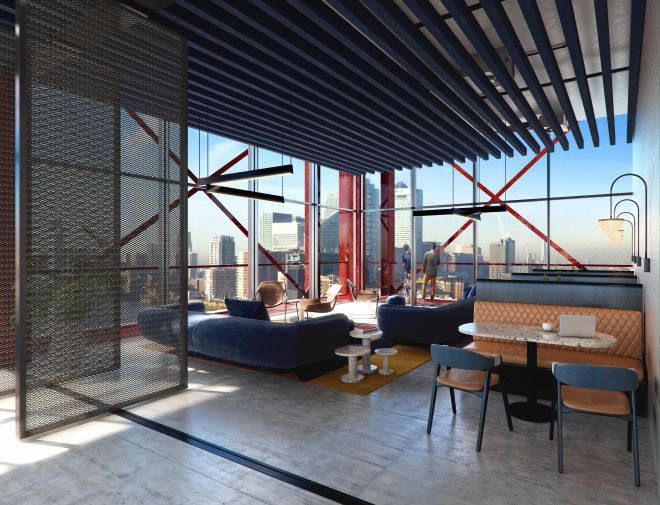 The Lantern Room forms part of The 1595 Club. Benefits include a swimming pool (The Waterhouse), Scandinavian style steam room (The Steam House), fully equipped gym with studios and weight room (The Sweat House) and business centre (The Workhouse).
Entertainment options include a private cinema (The Picture House) and restaurant (The Spice House). Residents will also be able to take advantage of the facilities of London City Island which include an outdoor swimming pool, resident's club and The Grocer - the island's very own Italian deli and restaurant.
Douglass Tower launches on September 8th when a number of units will be available to purchase with prices starting at £395,000. For more details visit goodluckhope.com