Arts and Culture
The London Design Festival 2017 - the young creatives making waves
Buying original pieces for a new home can be daunting. Why not tap into the work of five young cutting edge designers to give your apartment that 'wow' factor - from recycled plastics, computer-generated wall hangings, inventive woodwork, printed leather rugs to 'posh' pots?
Adam Fairweather and Rosalie McMillan set up Smile Plastics in 2015, launching at Tent during the London Design Festival the same year. They turn plastic waste into rigid boards with a distinctive flecked, mottled or streaked appearance, with shades from inky through white to brilliant colours.
"Our materials are 100% recycled and recyclable, handmade in the UK, and each piece is unique," says Rosalie. "And our boards have exquisite narrative and detail – often you can see the plastic's past life – a barcode perhaps, or foil from a yoghurt pot."
Clients include Stella McCartney, Christian Dior, Selfridges, and Liberty. Adam adds: "There are still no other businesses in the UK making such high-quality panels from 100% recycled plastics."
Now the couple has a table whose top is made from a beautiful fragmented mix of plastic bottles, yoghurt cartons and plant pots available from Heal's as part of its annual Heal's Discovers collection.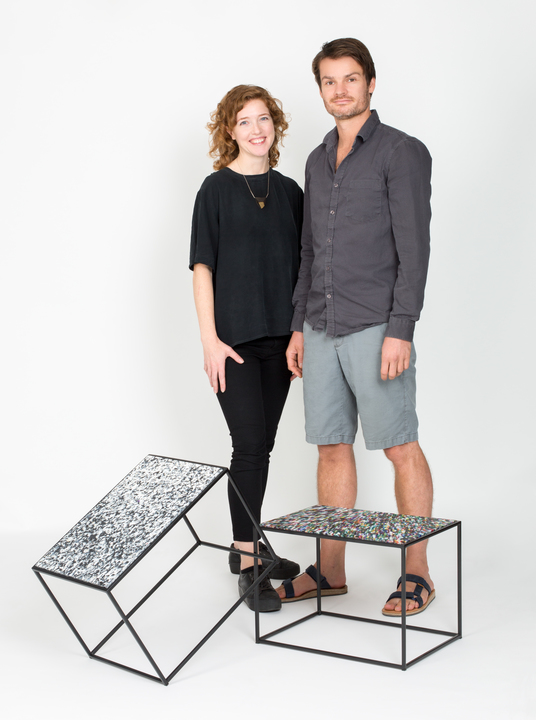 Is embroidery a dying art? Consider Jacky Puzey using a huge flat-bed digital machine to transform the ancient craft. She makes heavily-textured, one-off textiles for screens, wall hangings, and, most recently, upholstery. "I'm a digital artisan," she reflects. "I use computers to work out designs, and to control my embroidery machine and laser cutter – but first comes hand-drawn artwork. I may also stitch final details by hand, perhaps adding fur, feathers, lace or organza." Jacky, who graduated with a PhD in fashion, textiles and visual culture from Bath Spa University in 2014, originally trained in fine art, working in installations and photography and later costume and pattern-cutting.
Jacky's bold panels typically feature flowers, animals and birds, wild and unrestrained. Inspiration comes from the many places she's lived, including Kenya and Panama. At the prestigious Decorex interiors' show this autumn, Jacky is showing new cocktail chairs made in close collaboration with upholsterer Leighanne Treadwell, founder of the Bristol Upholstery Collective.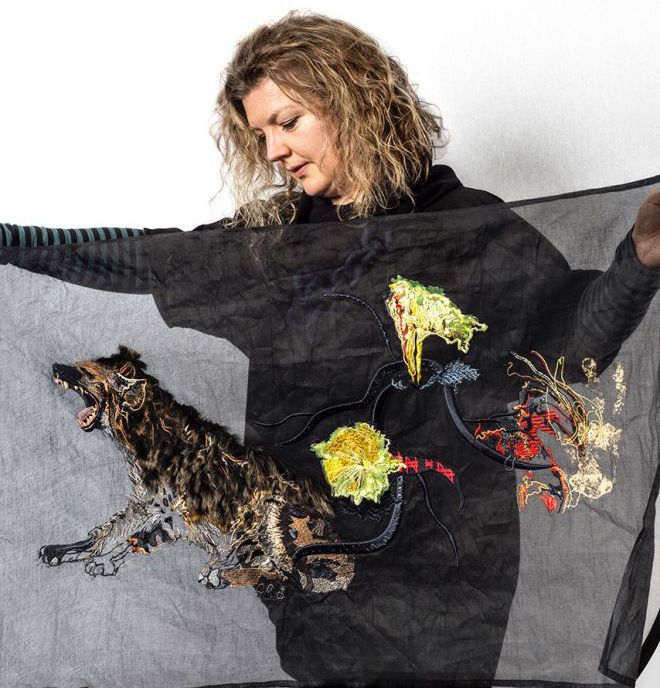 Young woodworker Charles Dedman trained in design at Kingston University, followed by a course in furniture-making at Chichester College. He won a Design Guild Mark for his elegant Windsor-style chair for the Arden range at Sitting Firm.
Charles uses the phrase "craft tech" to describe the way many designer-makers operate today. "We are updating traditional processes with modern tooling, such as CNC (computer numeric control). However traditional techniques are still appropriate - for finishing, for example."
The Zapotec range, launching at the London Design Fair this autumn is a case in point. Cupboard doors are an update on the elaborate hand-craft of marquetry. The triangular design with its pretty blue veneers, was inspired by Mexican folk art, as seen on a rug. The pieces are cut by laser then meticulously glued into place.
Alice Howard-Graham's mother was the late painter Anne Howard who fostered this young printer's passion for art and design as she grew up on the South Downs in West Sussex.
As a new graduate, her breakthrough was winning "the people's choice" award at Interiors Birmingham in 2012 for her striking patterns inspired by constructivism and abstract art. Five years of hard slog followed, working as a material and print designer for Paul Smith, House of Hackney and Jaguar Land Rover, while doing an MA at the Royal College of Art. "This provided vital time for experimentation," she says. Last year she opened her own business, and now sells her innovative printed leather to Heal's, as rugs and huge printed totes. Her designs have been inspired by her aerial photography taken from a hot air balloon over Petworth. But digital printing onto leather has been a challenge. "In particular I discovered there are many quality and pigmentation variations between different leathers and how they responded to different processes."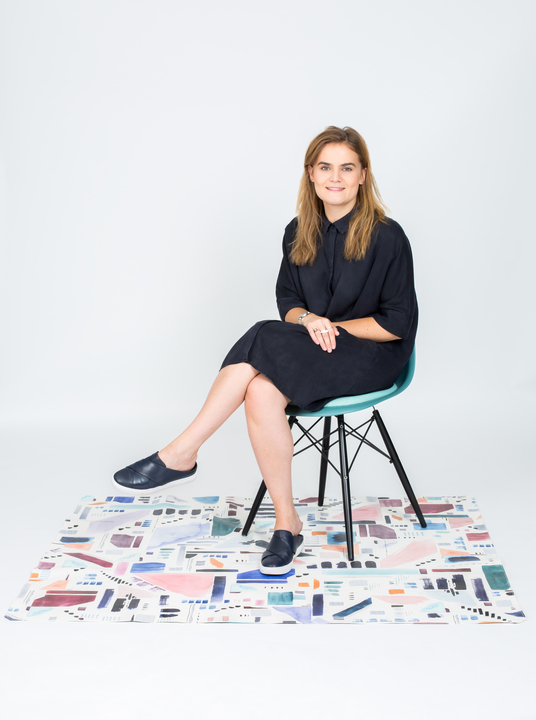 "I just fell in love with clay right from the beginning," says ceramicist Hannah Tounsend, who started her own business in 2015, winning the One Year On Award at the New Designers show in Islington in the same year. Hannah has a BA and a MA from De Montfort University. "Everything I tried I wanted to develop further and the more I understood the more I wanted to understand. There never seem to be enough hours in the day to explore all the possibilities of this amazing material."
Hannah's pots are a "hybrid way of making" that combines throwing with moulding, enhanced with many-layered prints.
Hannah's studio is conveniently attached to her cottage. Retaining its original wooden cupboards and fireplace, it was formerly the village "reading room."
What are Hannah's inspirations? "I love to walk on the beach and see the layered landscapes and the sea-washed, weatherworn surfaces of the British coastline." And even pebbles can come in handy. "I choose ones that fit well in my hand with nicely rounded edges and use them to make marks in the clay." Hannah will be showing three huge commissioned vessels at the British Ceramic Biennial at the end of September.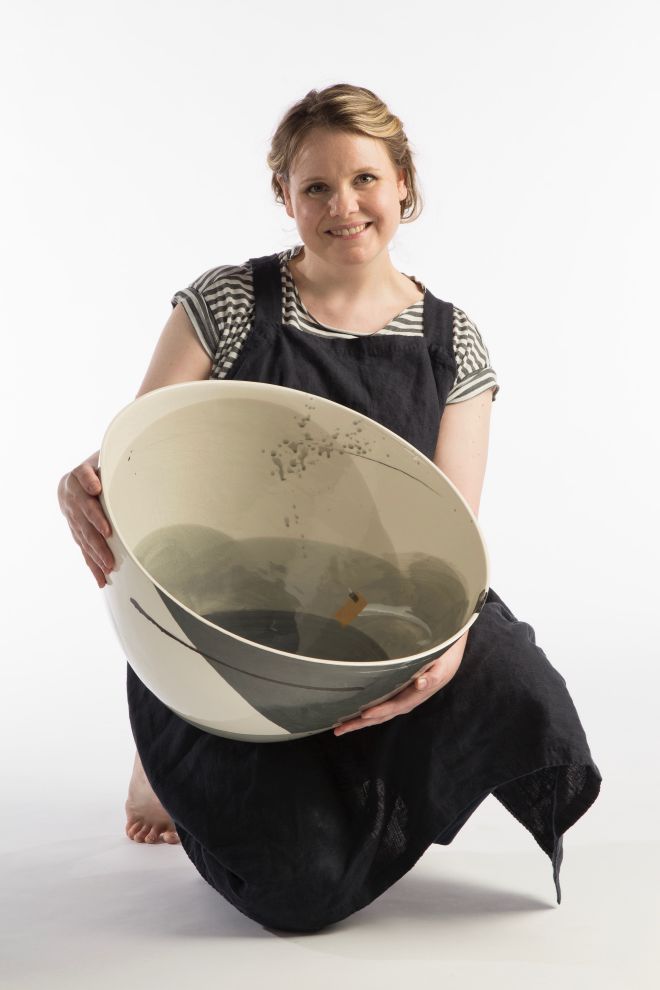 Photo credit: Barbara Chandler is a photographer and design writer for the Evening Standard