Arts and Culture
Swimming through history
Now spring is truly here, it's time to try one of the fastest growing sports amid some of East London's most iconic scenery.
At first glance, taking a dip in the docks may not rank among the most obvious advantages of 21st century docklands living. But open water swimming – or 'wild swimming' as it's called – is becoming Britain's fastest growing participatory sport, according to Sport England.
Within a stone's throw of two of Ballymore's most prestigious docklands developments – at London City Island and Royal Wharf– WakeUp Docklands at Royal Victoria Beach offers safe, clean - and reassuringly warm - open water swimming this summer amid the iconic industrial structures of London's docklands.
Since launching last year, London Royal Docks Open Water Swimming reports "a huge new take-up" of wild water swimming enthusiasts, eager to try out their 400-metre to 1.5-metre courses. Swimmers are protected by lifeguards aboard kayaks and benefit from the cleaner waters which flow into the docks from small tributaries, as opposed to the more polluted waters of the Thames.
While swimming in the river between Putney and Thames Barrier is no longer permitted, 'wild swimming' in the docks affords the magic of being amidst "the cranes, the high buildings and the old industrial docks of the Thames, this iconic river that defines our City", says Jenny Landreth, an ambassador for Thames Baths and author of "Swimming London: London's Fifty Greatest Swimming Spots". "It really feels like you swimming through history," she says.
"And you don't have to wear a wetsuit - from May onwards the temperature reaches the mid-teens and you won't feel you want to die immediately when you get in! It's all a question of pacing yourself, keeping within your comfort zone and not overdoing it."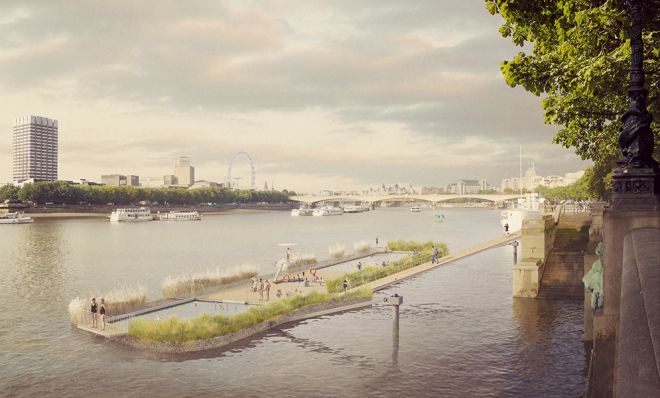 According to architect Chris Romer-Lee, who has raised £125,000 via a crowd funding campaign to build an open-air swimming pool on the Thames, London is experiencing an outdoor swimming revolution.
"Indoor pools have had their day and there's a bit of a return back to the outdoors," said the architect. "There's definitely a demand for outdoor swimming".
Romer-Lee's current proposal is for a lido on the Victoria Embankment featuring two pools – a 25-metre lap pool and a training pool. Both will be filled with Thames water, filtered to ensure it is always clean enough.
He joined Jenny Landreth at the Houses of Parliament this week to support Labour MP Owen Smith - himself an avid 'wild swimmer' - to promote and foster open water swimming in the UK.
"It's happening all over Europe, and in America. In New York, +Pools is planning to launch in 2020, and in Paris they are beginning to open up the canals in north of the city for 'wild swimming'. The lynchpin was the opening of Copenhagen Harbour Baths, one of the pioneers, built to celebrate the clean-up of the city's harbour water back in 2002."
According to Romer-Lee, the Thames and dockland waterways comprise seven times the area of Hyde Park, representing "London's largest open space with huge recreational potential for keeping people fit, active and healthy."
For more information on docklands swimming, go to London Royal Docks Ows