Arts and Culture
Sheriff Street Open Air Art Exhibition launched
One of Dublin's largest scale open-air art exhibitions was unveiled on Sheriff Street today. Ballymore's Dublin Arch Murals aim to make art accessible to all using eight up-and-coming, local, and established artists to create large-scale dramatic work.
Well-known artists such as Solus, Shane Ha, Kiki Na, Duc Pham, and local artists & creatives including Rebecca Kehoe and Tara Kearns created pieces along with Sheriff Street after-school group ASESP. The images are a mix of printed graphics and painted artwork and will be in situ for the public to view for the next two years.
The artwork will be displayed on hoardings currently around the Dublin Arch site on Sheriff Street and Oriel Street, connected to Connolly Railway Station in Dublin. When completed, the mixed-use development will include homes and offices, retail spaces, a café, food market, and new facilities for the Docklands Boxing Club and St. Joseph's O'Connell GAA Club. Also included is over 7,000sq m of public open space and over 2000 bicycle parking spaces for residents, visitors, and workers.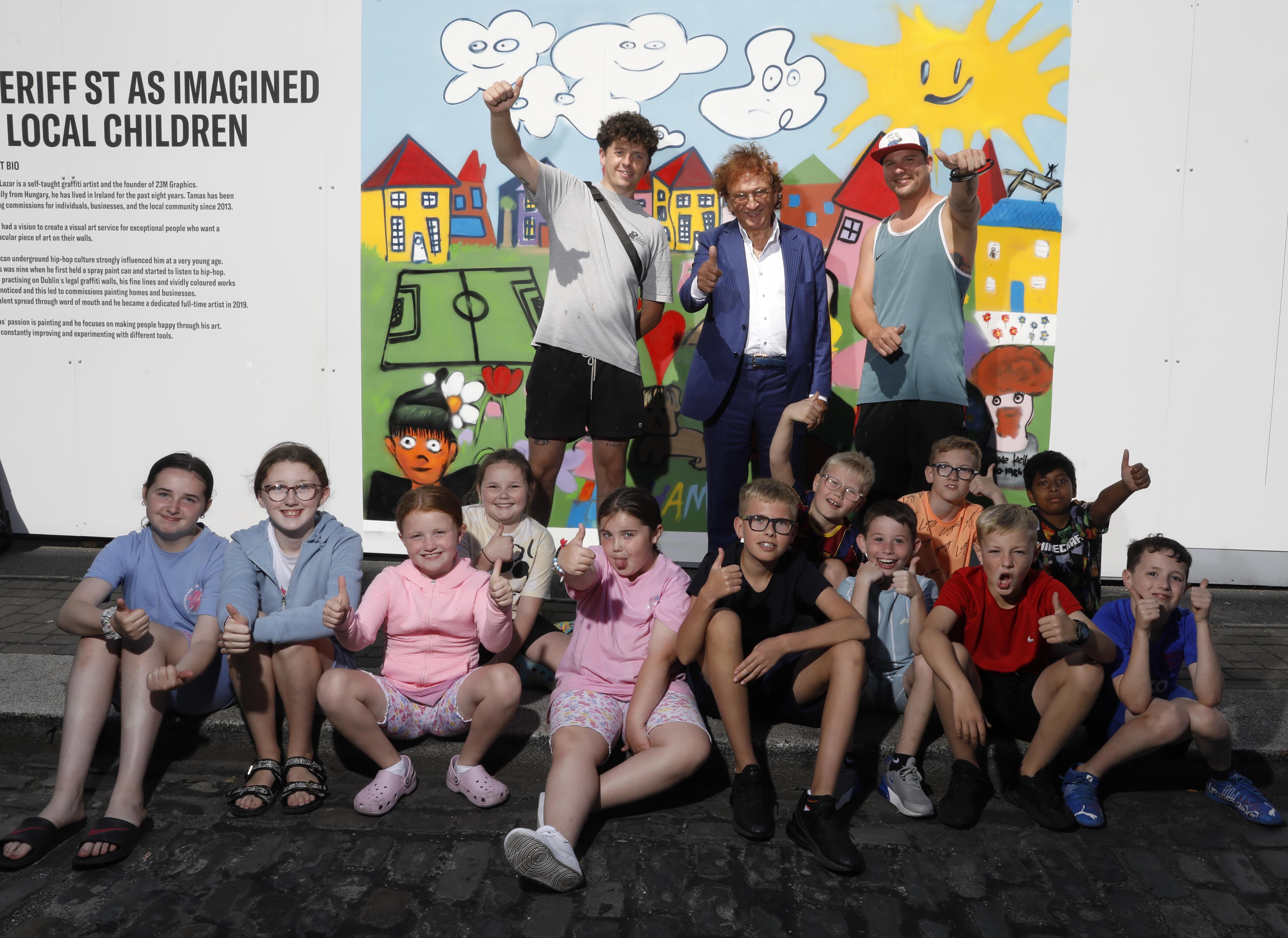 Leading the project is Art Director Fionnuala Halpin who is working with children and youth groups in the locality and has vast experience in civic art projects and youth work in communities. She is also an accomplished artist in her own right and has a passion for making art more accessible to the public.
Speaking about the exhibition Fionnuala says, "With this project, we are taking the constraints of a gallery away and making art more accessible to the community. There has been no real focus on art in the inner city in any consistent way, so this is a great way to highlight our local talent and hopefully bring an arts centre to the community in the future.
"Public art reflects society and can strengthen the sense of place by being site-specific. It is a communal activity that can reach a wide variety of people. It can be engaging, inspiring, and challenging and can help stimulate conversation between a diverse range of individuals and groups."
Tara Kearns' is an up-and-coming expressionist artist from Sheriff Street, gaining notoriety for her paintings of real people from the community and issues such as homelessness. Working two jobs, Tara got into IADT in Dun Laoghaire and graduated with a First-Class degree. She has gone on to showcase her work at a solo show at Trinity College where she depicted disabled leaders from the university to mark Disability Week and she also took part in the long-standing Five Lamps festival. In art college, she felt there was a stigma about being from Sheriff Street and this is something that she has carried with her all her life. She felt that art was something for the 'wealthy' and those who had the education to understand it, and this is something she wants to change through her work.
Speaking about the project and her local community Tara said, "Growing up my mam sacrificed a lot for me to realise my dream as an artist. To have my work displayed here in my community alongside some of these great artists is a really proud moment! I am determined to show the positive side of Dublin's inner city.
I regularly have young people asking how they can paint and draw 'like me' so the chance to do more teaching and workshops here would be great. I invite all who have never been to this area of Dublin to come and visit and look at this beautiful art and see our strong sense of community."
Locals from the Sheriff Street area were delighted to see the exhibitions being created and colour the installations are bringing to the vicinity. Many expressed their appreciation with local resident Fiona Byrne commenting: "We are delighted to see this arrival of creativity and local artists to the area. Sheriff Street is often forgotten area of the city and this artwork is a great addition of colour to the street. It's lovely to see them all come together."
Ballymore is a developer with vast and varied experience, acknowledged as pioneers of some of Europe's largest regeneration projects. Art and culture is a key part of its developments.
Chairman and Group Chief Executive, Ballymore, Sean Mulryan officially unveiled the murals today and said, "The arts, culture, and design are essential to our lives and to our wellbeing. We must appreciate the significance of the arts to our quality of life, and we always ensure it is within the places that we are developing. This project offers inspiring examples of how individual artists can make a difference and we look forward to building our relationships with these artists further as Dublin Arch progresses."
You can watch a film of the exhibition coming together here.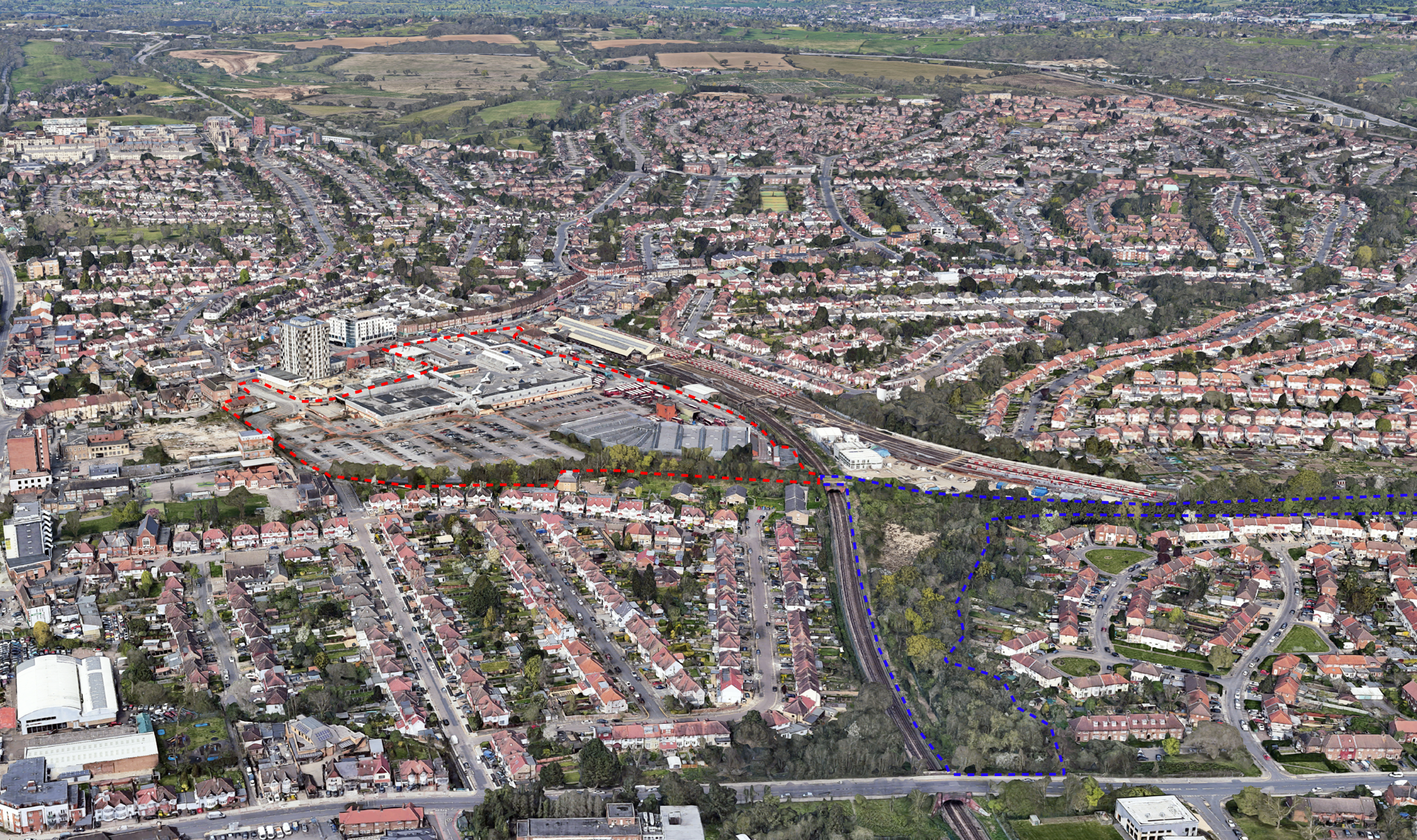 | | |
| --- | --- |
| Artist | Artwork on show |
| Solus | Rise up of two ballerinas with boxing gloves representing the strength and power of women. |
| Kiki Na | Image of a friend representing women's strength. She is wearing a beret as a symbol of revolution or empowerment. |
| Tara Kearns | Image of the local area and the Five Lamps landmark |
| Rebecca Kehoe | Photo of Off the Rails - street art jam on nearby Railway Street. The girls are from Francesca Arkins House of Lyrical in nearby Sean McDermott St |
| Kayde Middleton | Nostalgic photorealistic portrait of children walking down Sherriff Street and portrait of Jim Sheridan who is from Sherriff Street |
| 23mGraphics | Community piece with the after-schools and education project on Sherriff St. |
| Shane Ha | Image of James Joyce representing his love for Dublin's inner city, the real-life inspiration behind some of his most celebrated writing |
| Duc Pham | Self portrait |