Arts and Culture
Local artists join forces
London City Island's residents are to show their work alongside professionals from neighbouring Trinity Art Studios in a novel pop-up exhibition
A pop-up exhibition featuring art inspired by docklands living opens to the public next month in a unique collaboration between local artists and amateur work by residents.
"The initiative is to foster and support placemaking activities on the island. To nurture people's creativity and create communities. You can sell a space - but then you have to build a place", explained project manager Ramon McHardy.
Already 16 residents living in some of 400 new homes of London City Island Phase One have had their work accepted for the exhibition, which will be shared with work by some of the 50 artists from Trinity Art Studios on neighbouring Goodluck Hope.
"What is especially novel is the fact that a major developer is promoting a body of work like this, inspired by and representing a new development like London City Island – we'll have photographs and sketches of the area," said Ramon.
Each resident will exhibit three pieces.
"We have selected work that very much focuses and is inspired by life on London City Island. The aim is to take in areas like East India Dock and Poplar because the docklands is a much-overlooked part of London's culture", said Ramon who is from South Africa.
"Most people don't know it's there. And with exhibitions like this, it will show you don't have to be in Spitalfields or Canary Wharf to be creative."
A "star of the exhibition" will be architecture and cityscapes photography by LCI resident Sokari Higgwe, a retired Nigerian city financier who was instrumental in recruiting his fellow residents to exhibit their work. "He encouraged people to be confident enough to display their work," said Ramon.
One of those he persuaded was neighbour Viviana Carter, an engineer by profession, who submitted her first-ever painting, completed with a paint box set from her boyfriend over Christmas.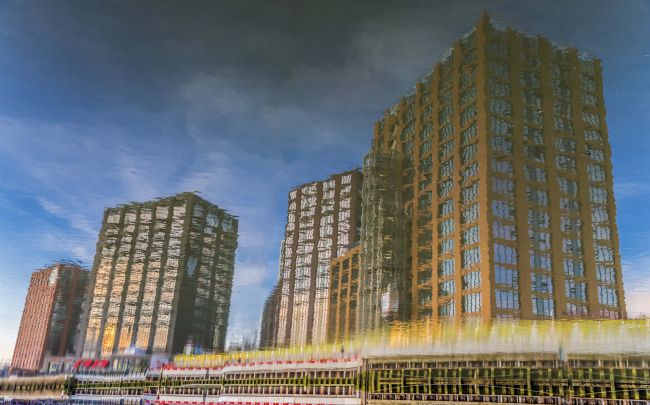 Another highlight will be work by Caroline Jane Harris, a resident in an affordable art studio at the adjacent arebyte gallery, which is concurrently showing an exhibition entitled: on my island none of this would be true. It includes work by 10 artists from London, Israel and the USA whose practices span sculpture, installation, photography, poetry, video and performance.
The residents' art exhibition will run between Feb 1 and March 31, on the ground floor of the Java Building in Phase One of LCI.
On the opening night of the exhibition on February 1, residents will 'meet and greet' artists from Trinity Art Studios, after which there will 'Instameets', photo workshops and life drawing classes in the exhibition space.
Red Bridge image on the home page by Sokari Higgwe