BALLYMORE PEOPLE
"It's my love for nature, and for flowers and at the same time being creative"
If a stunning flower arrangement in a lobby in Canary Wharf has caught your eye, it's quite likely to be the work of florist Richard Bragg, who has his workspace at Trinity Buoy Wharf.
How did it all begin for Richard?
South African born Richard ran an events company and provided flowers for President Nelson Mandela, including his inauguration ceremony in 1994 and his predecessor, F.W. De Klerk.
After moving to the UK, Richard went back into floristry after a short break: "It's my love for nature, really, and for flowers and at the same time being creative," he says.
Richard founded RB Floral Design and later launched an offshoot bouquet service, Le Bloom London. He moved into his premises, where he has a workroom and a walk in fridge, at Trinity Buoy Wharf three years ago:
"It's a perfect location," Richard says. "It's a great space and a great community and you cannot ask for a better location. It's literally three minutes' drive from Canary Wharf."
How does it feel about the area changing?
This whole area over the next three to four years is going to change a lot and once people move in, it's going to be great. It's good to have something like Trinity Buoy Wharf amongst it all because it's interesting - the lighthouse is the only one in London -and it's a tourist attraction.
Where does he source his flowers?
Mainly from Holland, but for foliage you can't beat New Covent Garden flower market, he says. "They bring in all the fresh English foliage, so that's where I get all my foliage from".
Being up at 3am to get to the market three or four times a week isn't for the fainthearted.
"It's a lifestyle," he says. "Sometimes the youngsters can't make it, but I like it."
What's the current trend?
"At the moment the look is very country and informal, simple bouquets with a lot of foliage are very popular," says Richard, a trend that will continue, he says.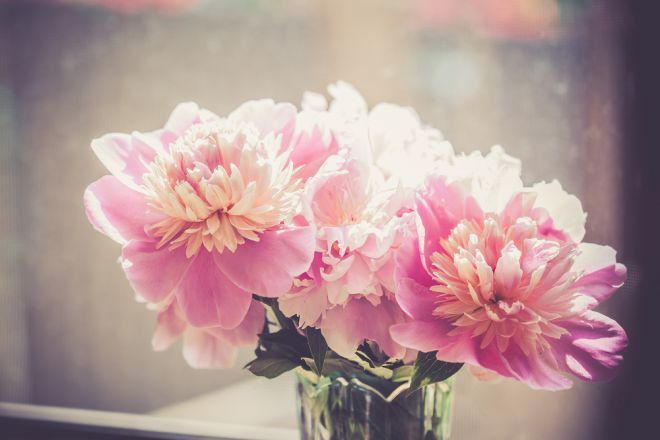 What's his favourite bloom?
"My favourite is the Peony, they are so beautiful, but the season is far too short," he says. "They start about mid-April and they're done by the end of May, middle of June and you won't get any more. So you have to enjoy them while you can."
Does he have any tips for caring for flowers, especially in hot weather?
"If you get fresh flowers they should last," he says, but make sure you cut them at 45 degrees and don't put them in direct sunlight.
"If you use flowers in season, they can last two weeks, even if it is hot, because they grow naturally," he says.
Be careful which flowers you put together, as some flowers are "very temperamental" and don't like to be mixed with others. Always use flower food, and if you use a clear vase and don't want the water to go brown and dirty use a small molten sterilising tablet. "That will keep your water crystal clear."
What should you do if you want beautiful flowers without spending lots of cash?
If you're buying them for a big occasion, like Valentines Day or Mother's Day, you can't do it, he says.
"Flowers are on auction, so it's demand and supply," he says. "If demand is there, flowers are going to be expensive."
But to create something "stunning" opt for seasonal flowers at all times and "go for a more informal look where you use foliage as well to bulk it up and it should not cost the earth".