BALLYMORE PEOPLE
"I'll be moving into a creative community that's in the process of forming"
Tim Allen is a stop-motion animator, who has worked on films such as Tim Burton's Frankenweenie and Corpse Bride, Fantastic Mr Fox, and the Oscar winning Peter & the Wolf. Later this year, he will be moving to a new apartment at London's City Island, where his love affair with the East End of London looks set to continue. Why London City Island? I was familiar with the area having discovered Trinity Buoy Wharf and the Bow Creek Cafe, which is going to be one of my favourite locals. It's definitely one of the Docklands' gems. I had seen the City Island developments starting construction. It's a stunning area, with the whole development surrounded by water, which makes it really peaceful. Also, I've worked at 3 Mills Studios many times, and was invited back to work on a movie. Both City Island and 3 Mills are on the River Lea, so it will simply be a 30-minute 'commute' walking along the river to work, which also sounded beautiful. You're one of the early pioneers - how does that feel? What's exciting is that you get to be part of a community as it's forming. I love the fact that the island has a creative slant to it. The National Film School is also coming here and the English National Ballet. My lifestyle and work is utterly creative, and I'll be moving into a creative community that's in the process of forming- that feels right.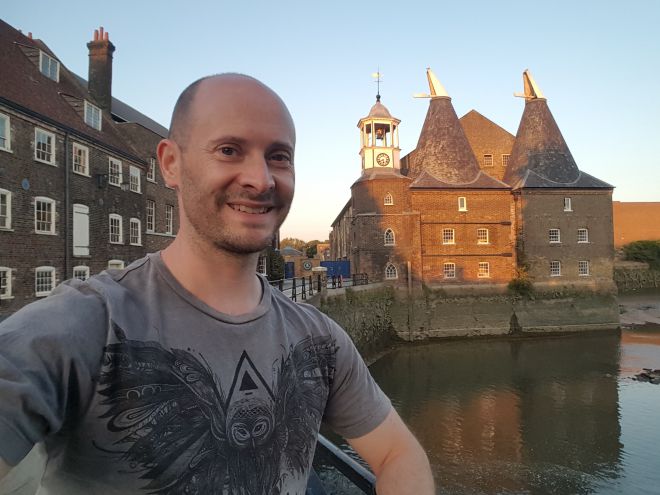 Where have you lived before? I've lived in East London for over 12 years and with the Olympics, we've seen so much development and there are lots of interesting quirky places, with bags of character. Sometimes work has taken me to different countries, such as Poland, Norway and Brazil but much as I love the opportunity to travel, I feel that East London is my home, specifically the Docklands. What's the view from your balcony? It's still under construction, so I'm only guessing, but I should be able to see the Queen Elizabeth Olympic Park and possibly the Orbit, plus the ExCel Centre, City Airport and the Royal Victoria Docks.
What are your hopes for London City Island in the future? I'd like to see an interesting development with all the retail elements on the ground floor. One hope is that there is a hub of interesting places to go to on City Island itself. Trinity Buoy Wharf looks to be continuing to develop and there's a possibility of there being a pier there, which will be great. I'm also looking forward to seeing the River Lea develop, with all the work being done to make access easier and open it up, with park spaces and coffee shops so you can walk the whole river. The final phase of London City Island will be launched this week with 217 units going on sale.