Arts and Culture
Destination south for London's all-night arts festival
The capital's largest free contemporary arts festival is heading south of the river with a dozen internationally renowned artists exhibiting in new and iconic locations from the Hayward Gallery through Nine Elms to Battersea Power Station.
The festival, on July 7th from 6pm to 4am the following morning, has been curated by Hayward Gallery director Ralph Rugoff to coincide with the institution's 50th anniversary. Ralph Rugoff said: "Stretching across a deeply interesting part of the city that is being rapidly redeveloped, Art Night will showcase extraordinary performances, installations and films."
The art works question the emotional and political meanings of 'home' – residency, security and even the quest to live on other planets.
Embassy Gardens residents have been invited to take part in the 'London Procession', a large-scale participatory performance choreographed by Italian dancer Marinella Senatore, beginning at Battersea Power Station and moving north throughout the night culminating in a finale at the Hayward Gallery.
"Have you got a secret talent?", EG residents are being asked. "Are you part of a group or organisation? Do you play an instrument? Do you sing in the shower? Take part in this artwork, which will consist of a series of performances by residents alongside dancers, musicians, athletes and many more!".
Also at Embassy Gardens is Happily Contained, by Chinese artist Miao Ying, her first work using virtual reality technology which promises to "defy the laws of gravity" by inviting audiences to take part in 'lifestyle hypnotism' described as virtual journey in search of utopia and contemporary ideas of home.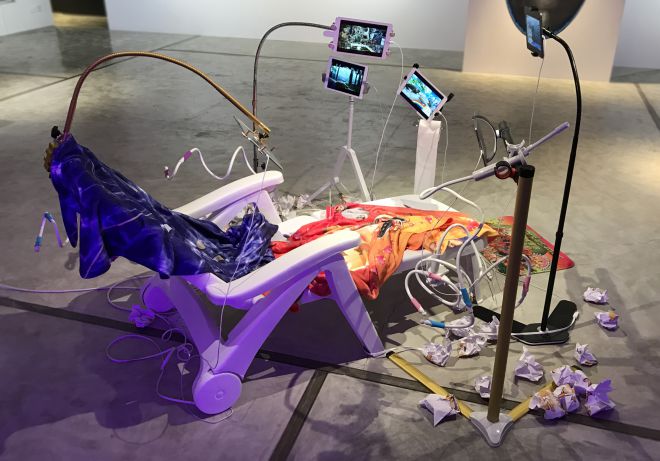 The wider festival programme features new commissions by artists such as Turner Prize nominee Anthea Hamilton who will transform parts of Battersea Power Station with a new augmented reality experience to take place alongside her recently unveiled Tate Britain 2018 Commission.
Lara Favaretto will present her installation I poveri sono matti for the last time. The work - a red and blue gypsy caravan lit from the inside and emitting a recording of the popular World War II-era polka, Rosamunde - will be suspended from a crane in Nine Elms and Dwelling.
A video work by Tawianese artist Yuan Goang-Ming shows a comfortably furnished living room exploding in slow motion while Turner prize-winner Jeremy Deller will be presenting a new performance in his second collaboration with the Melodians Steel Orchestra.
• Check out all the events here
• A dedicated MBNA Thames Clippers boat will run a bespoke route until 4am. Get 50% off return or hop on, hop off River Roamer tickets for the evening if you book by 30 June, using code ARTNIGHT18.