BALLYMORE PEOPLE
Bringing charity into the heart of company culture
For Ballymore people, charity really does begin at home. From cycling, to rowing, to abseiling, to football, charity heroes from company directors to hundreds of employees gave up their spare time over the summer to help raise nearly £40,000 for good causes.
"I love doing stuff for charity and it's really good for the company in terms of outreach and networking," said New Zealander Sophie Stretch, a commercial coordinator at Wardian and Goodluck, a major force behind one of the summer's star events, the Ballymore Dragon Boat Race.
Ten special Dragon boats, equipped a drummer to keep time and a cox, and each crewed by ten Ballymore rowers raced the length of Millwall Outer Dock on the Isle of Dogs to compete before another 100 spectators on a sunny July 31 to raise more than £10,000 for Teach First, a charity that helps children from low income families fulfil their potential at school.
Sophie, whose Wardian boat came third (London City Island won), told how the initiative to get involved came after one of the head office directors, Terry Arnold, passed on a leaflet he'd picked up outside Canary Wharf station asking big businesses for support.
"Ballymore immediately pledged £8K for its own company-wide event and we went from there," said Sophie who sent a round robin mail for volunteers. "It was a great day with a barbeque at the end and a trophy and medals donated by Teach First for all the competitors. We are definitely on do it again next year".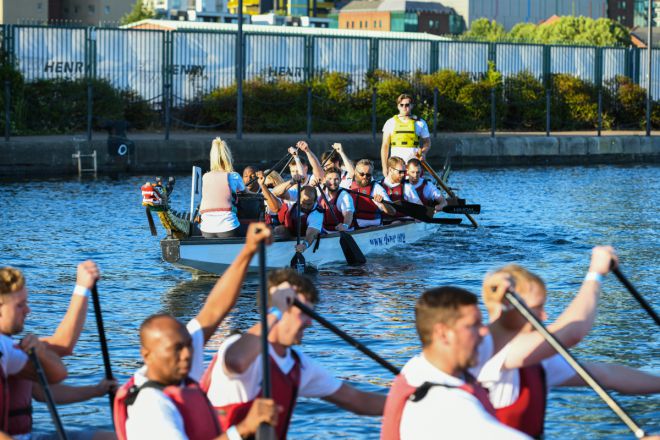 While the Group "invest a great deal" in charity partnerships and organisational sponsorship, Linda Mulryan, Ballymore's operations and communications director, said:
"We're always impressed by the passion of our team to go above and beyond when it comes to giving back. Over the summer there's been the most fantastic, creative means of raising funds for some very important charities. At Ballymore we're always willing to support these efforts in whatever way we can, and it's also a great way for us all to get to know each other a little better – whether that be forming a boat race team, running 5k, or abseiling a building!"
More hair-raising than rowing, the London City Island development team, led by Steve Tennant, raised £21,000 for charity by abseiling down Phase Two of the development to celebrate residents moving in.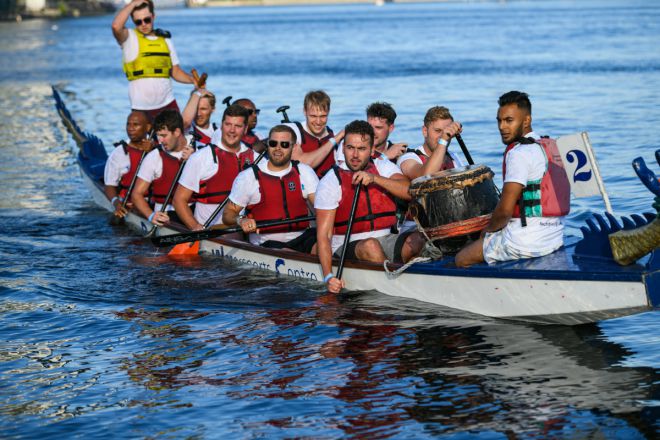 The summer also saw John Richardson, who works at Goodluck Hope, raise £1,508 for a prostate cancer charity by riding the Grand Depart Classic – the challenging first road stage of the Tour de France. Dorota Krasnodebska, Ivan Bakovski and Henry O'Neill, who also all work at Goodluck Hope, raised £350 for an ovarian cancer charity by running the Vitality London 10k run.
And the second Royal Wharf five-a-side tournament played in Shoreditch this year, raising £5,200 for MIND – the mental health charity. The employees at the site have raised a total of £16,500 for local charities to date.
On top, the Royal Wharf team has been visiting local school as part of the London Borough of Newham's Building Futures programme with team judging models designed by local children.