BALLYMORE PEOPLE
Being a candle maker is a bit like being a chef
Rachel Vosper, a leading British candle chandler and founder of her own candle boutique in Belgravia, has created a signature fragrance for Wardian London influenced by the development's namesake.
How would you describe the Wardian fragrance?
Ferns and mosses were [creator of the Wardian case Dr Nathaniel Bagshaw] Ward's passion, so we decided on a fern-based fragrance. It's fresh green scent with mossy overtones and a touch of Cedar wood. Think cool lushness of the forest floor, with dew on the ferns mixed with a floral hint relating to the Kokedamas.
How did you come to be a candle maker?
I met a candle maker when I was living in Barbados and that was it, really. I ended up taking on her business. I'd only gone to Barbados for six months but ended up staying four years. Back in the UK, I worked in publishing and luxury travel PR, but at the weekends I would dash to my studio in Devon and make my candles, pack them and send them to clients - it was crazy, but I was so passionate about it.
What is candle etiquette?
It's what you should do to get the best from a candle, but no one pays attention to the information on the packaging, in the same way that they don't read instructions for a TV when they unpack it. It's really just educating people about things like trimming your wicks and keeping them to the right length.
How realistic is it to make your own candles?
Often people buy all the kit, but eventually come back to me for their candles and tell me the kit is gathering dust somewhere. I don't try to dampen people's enthusiasm when they say they want to make their own candle, but they often discover that it's more joyful - and easier - to buy them. It can be messy - I wouldn't recommend using your kitchen - and I've got one foot covered in wax right now.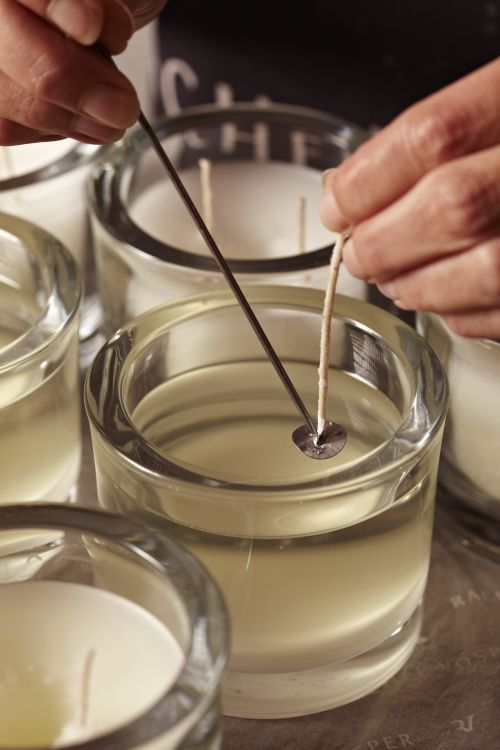 What is your favourite fragrance?
I tend to go for something basic and generic like dama de noche. Being a candle maker is a bit like being a chef, you don't want to go home and eat your own food, so I like to try out other people's scents, and really like Otto by Fornasetti.
What do you do to relax?
I like to get my headphones on and go for a jog or a run. My work is very physical, so I don't need to exercise - for me it's about relaxing. I'm also very strict and don't work at the weekend. Spending time with my daughter, who is three, is my best therapy. She distracts me completely.
Are expensive candles always the best?
For a good candle, it's important to look at the ingredients, see if they are made of natural beeswax, for instance. The ingredients are key, but fashion also plays a big part, and you pay for the brand.