Arts and Culture
A very British institution
It's said that 'afternoon tea' was first introduced to England by Anna, the 7th Duchess of Bedford in the late 19th century to overcome "that sinking feeling" she felt in the late afternoon. So began a fashion that has endured throughout the centuries. Today, afternoon tea in some London hotels has become an art form. Afternoon Tea with Lily Vanilli, served by EcoWorld Ballymore in its Wardian pop up throughout the summer reflects that trend.
We asked Jane Pettigrew, tea specialist, historian and writer what she thinks makes the perfect afternoon tea.
"The food should be small and elegant and easy to eat without making a mess. Everything should be eaten with the fingers, with the occasional help of a small tea knife or pastry fork and suited to the drawing room rather than the kitchen or dining room. The ceremony of afternoon tea started as social occasions in the drawing rooms of stately homes so people should dress elegantly and the room should be calm.
When it comes to choosing a tea, Jane recommends looking at the food on the menu first to make sure they go together. She says: "A light black tea, such as Darjeeling, or a Chinese green will go with the sandwiches, while a Ceylon black is better with the scones and jam and cream, then China or Taiwanese oolongs or a Chinese black with the pastries and cakes".
But be guided by the sort of tea you prefer, your mood and time of year. "We tend to prefer more warming flavour profiles during colder winter months and lighter flavours doing the summer' she adds.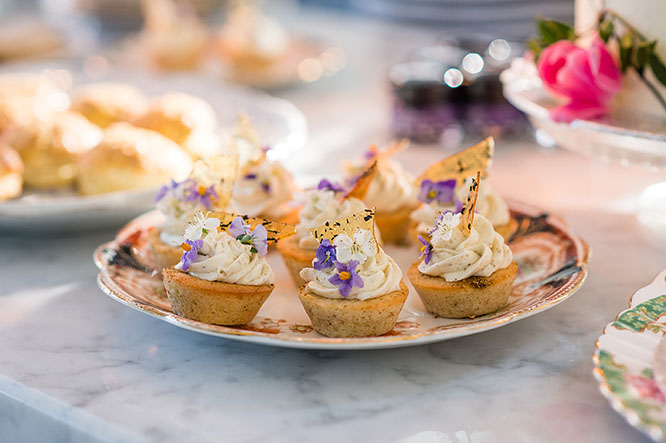 Wouter Van Giel, who is the sommelier and Palm Court Manager at The Langham agrees.
"A different tea can complement each part of the afternoon tea, such a lighter black or green tea paired with sandwiches and a slightly sweeter black tea with scones and pastries. We would recommend trying something new each time you have afternoon tea, therefore choose a tea you have not had before."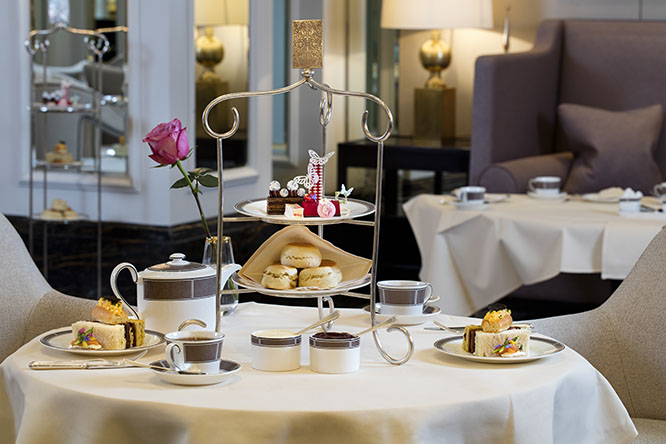 But when hunting out the perfect afternoon tea Wouter says look out for " a lovely selection of freshly made sandwiches, warm scones with typical clotted cream and strawberry jam and a selection of pastries that are both individual and complement each other",
Below is a guide to some other fabulous afternoon teas in the capital
Wardian
A feast of botanically-inspired artisan cakes from East End bakery Lily Vanilli, served with a selection of teas from Tregothnan - the tea estate that is home to the world's oldest surviving Wardian Case. Herbs such as basil, thyme and parsley are used in abundance, along with flowers and fruit and Lily Vanilli has infused some of her cake creations with Tregothnan's teas.
Details: http://www.ballymoregroup.com/news/wardian-hosts-a-series-of-botanical-afternoon-teas
Palm Court, The Langham
Serving afternoon tea to London society since 1865, the Langham continues to serve afternoon tea in the elegant surroundings of Palm Court. Choose from two bespoke teas, The Royal Afternoon Tea, and the Wedgwood Afternoon Tea, created by award winning Pastry Chef Cherish Finden.
And if you are there at 7pm, look out for Champagne Charlie who appears daily at 7pm to serve free champagne to guests.
Details: http://www.langhamhotels.com/en/the-langham/london/dining/palm-court/
TING, at Shangri-La Hotel, the Shard
Located on the 35th floor of Shangri-La at the Shard,Ting offers spectacular views of the city. There is a classic tea and an outstanding Asian tea offering delicately flavoured sweet and savory treats.
Details: http://www.ting-shangri-la.com/
The Wolseley
Classic afternoon tea of tasty finger sandwiches, scones, a selection of pastries and a choice of teas or champagne if you prefer. All served in the "Viennese grandeur" of this former Wolseley Car Company showroom.
Details: https://www.thewolseley.com/
Dean Street Townhouse
The perfect place for a cosy afternoon tea, with fireside armchairs and candlelight when night falls. Afternoon Tea includes finger sandwiches, scones, a selection of traditional fancy cakes such as lemon-drizzle and Battenberg.
Details: www.deanstreettownhouse.com