BALLYMORE PEOPLE
Laying down good foundations
Inspired by the story of one young Texan, Ballymore has renewed its apprenticeship programme giving young people a chance to learn on the job and take their first steps on a career in the construction industry.
All the way from Texas, Tanner Ebbs looked every bit the part when he turned up for work as a young intern on Ballymore's landmark Embassy Gardens site at Nine Elms.
"To be honest, he was built like a rugby player, so fitted in quite well here," joked project director Mark Woolcott.
"But we noticed he was limping - which was when he told us he had a false leg," amputated, Tanner explained, during his battle with cancer.
"As it was, he turned out to be the best intern we have ever had. He did all the work better than other lads, up and down stairs, nothing stopped him. We thought so much of Tanner that it gave us a renewed commitment to develop our whole internship programme – he was a game-changer."
Mark has now offered three more young Americans from Texas Agricultural and Mining University (TAMU) 12-week internships on Embassy Gardens this summer as part of the college's long-standing relationship with Ballymore Group. "But they'll have big boots to fill after Tanner," he said.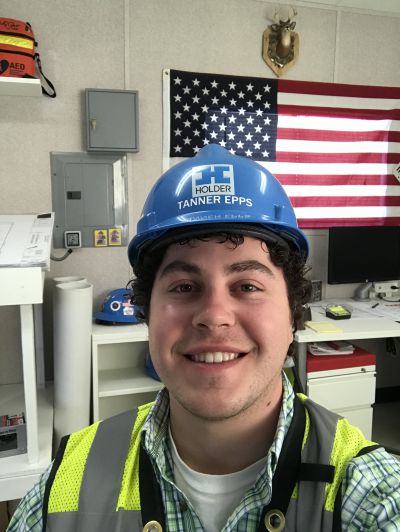 But why Ballymore? "Because Sean Mulryan, is a great believer in putting back into society. It's well known that Sean started as a young bricklayer himself, building his own house and part of that is his determination to promote internships and apprenticeships, perhaps more so than any other company in the industry."
Also, Mark said, the industry had "missed a generation" after the financial crash of 2007, when "the last thing kids wanted to do was go into the construction industry. Big new technical colleges were struggling to fill courses. Sean Mulryan is very keen that we plug that gap and get new blood into the industry as quickly as possible."
Ten percent of the 500 construction workers on Embassy Gardens, London City Island and Wardian were apprentices - older career-changers as well as young people - either directly by Ballymore Group or through its sub-contractors, encouraged to run schemes as part of broader Section 106 commitments with local authorities.
"The vast majority of contractors do share Sean's vision – that we desperately need to fill the underbelly of the industry with new young people. It's a passion for him – and he wants it to work."
As for Tanner? "We'd love to have him back but at the moment it's a choice between a full-time job with Ballymore - or to build missions in Africa with his father. We'll have to wait and see," said Mark.